EasyJet has pushed back delivery of 22 more Airbus A320neo jets originally set for delivery during its next three financial years, meaning the airline is set to take 33 new aircraft over the coming four years.
The 22 deferred aircraft were set for delivery in its financial years, which run to 30 September, of 2022, 2023 and 2024. These aircraft will now be delivered in fiscal 2027 and 2028.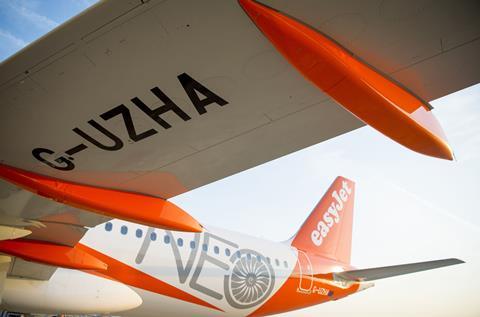 As part of the agreement EasyJet has moved delivery dates of 15 more aircraft during the 2022-24 period to better align them with forecast seasonal demand.
The airline has also re-allocated options it held until the end of this month, on not taking up to seven aircraft scheduled for delivery between 2022 and 2026, to apply to aircraft for delivery in its 2025 and 2026 financial years. The deadline on these options has been amended to December 2021.
In June the low-cost carrier pushed back by five years the delivery of 24 aircraft that were originally destined to join its fleet between 2020 and 2022.
As a result of its latest changes, EasyJet will not take delivery of any aircraft in its current financial year. It will receive eight aircraft in 2022, seven in 2023 and 18 in 2024. There is no change to the total number of firm Airbus A320neo-family aircraft outstanding orders.
It also retain options to take delivery of 30 aircraft in its 2023 financial year by bringing forward future deliveries. That option must be exercised by December 2021.
EasyJet chief executive Johan Lundgren says: "This latest amendment to our long-standing agreement with Airbus reflects EasyJet's significant fleet flexibility as well as the benefit of highly attractive aircraft pricing.
"In this period of uncertainty, this flexibility is even more valuable, as it will enable us to quickly flex our fleet size in response to customer demand."