Emirates Airline president Tim Clark says his company simply will not accept aircraft from Boeing unless the jets perform as advertised.
He is also pressing for future aircraft sales contracts to include language that holds Boeing and other airframers more responsible for quality issues and delays.
"We will not accept or tolerate quality-control issues," Clark says on 5 October. "If the [777-9] comes out, and we have problems with it – either airframe or engine – we will send it back to Seattle, and I don't care what happens to it."
"We don't want it," adds Clark.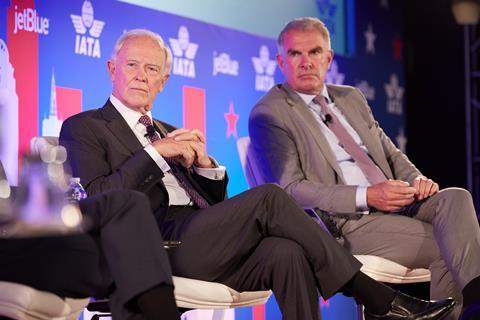 He spoke during IATA's World Air Transport Summit in Boston.
Emirates is a major buyer of Boeing's delayed, in-development 777-9, holding orders for 115 of the jets. Boeing now says it will deliver the first 777-9 in late 2023. Clark notes Emirates was to receive its first 777-9 in June 2020.
Emirates also holds 30 787 orders. Deliveries of those jets remain halted due to quality control issues involving their composite fuselages,
Speaking of the 777-9, Clark says Boeing seems unable "to predict when this aircraft will be delivered".
That creates significant financial liability for Emirates. The airline faces a "very large spend on… initial provisioning" of equipment such as flight simulators and spare parts, including spare engines, according to Clark.
"All this is money going out… We cannot afford to put 60, 80, 100 million dollars out there not knowing when these aircraft are going to turn up," Clark adds. "I need to know… precisely."
Clark also addresses sales contracts, saying future agreements should hold airframers more accountable for operational disruptions caused by aircraft quality problems.
Airframers must be held accountable for "anything [they] inflict on the airlines with regard to how [airlines'] relationship to the consumers is affected," Clark says. "The contracts of old… will not be the contracts of the future."
He cites the incredibly difficult position airlines face when having to cancel flights. In such cases, they must find alternative travel for hundreds of passengers.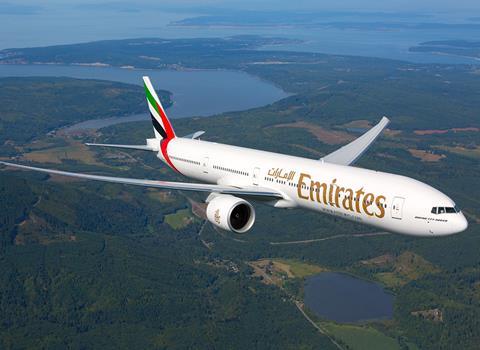 Amid its recent troubles, Boeing has implemented a series of business changes it says will help improve quality. The airframer has replaced its CEO and shed other former executives, revamped some reporting structures and formed new committees to focus on safety and design.
Boeing has said the 787 quality issues do not affect flight safety and that its decision to halt 787 deliveries reflects its dedication to quality. However, the company needs the Federal Aviation Administration to approve rework ahead of deliveries resuming.
Clark suggests Boeing's problems will resolve themselves if the company focuses more on its products and less on its shareholders – a critique that has been levied by aerospace analysts.
"The first thing you should start doing is producing products that the airline community want… that are fit for purpose, that come out on time and on budget," Clark says of Boeing. "Then, don't worry about free cash flow. Market cap. Shareholder value. Dividends. Bonuses… It will come to you anyway."