Emirates is aiming to have more than 50 of its Airbus A380s in service by the end of the year, under plans to restore 70% of its overall pre-crisis capacity.
The Middle Eastern carrier made the projection on 27 September as it announced an expanded list of destinations to be served by the superjumbo during October and November.
"The airline is gradually and responsibly deploying its popular aircraft in sync with passenger demand as the travel industry continues on its path to recovery," Emirates states.
The Dubai-based airline expects to have 118 A380s in its fleet by year-end, it says, meaning it would still be operating less than half its examples of the type unless it reaches at least 59 in service at that point.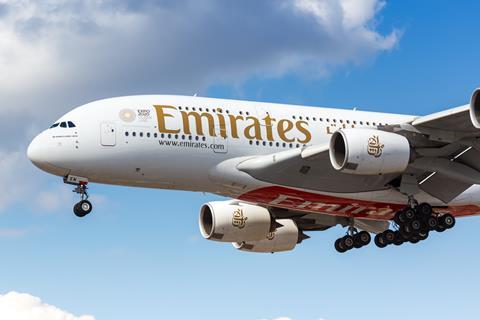 The carrier has 39 of its 119 A380s in service today, according to Cirium fleets data, alongside all but one of its 144 Boeing 777 jets.
Emirates announced earlier in September that it was accelerating deliveries of its final three A380s – bringing to six the number of A380s equipped with its new premium-economy cabin in a four-class layout – with the last example set to arrive in November. At the same time, the carrier is beginning to retire some of its older examples of the superjumbo, which is why its fleet size could fall slightly by the end of 2021.
Under the plans to bring more A380s back into service through October and November, the number of destinations served by the superjumbo will be increased to 27 from 16 currently, Emirates says, with the additions of Amsterdam, Barcelona, Dusseldorf, Hamburg, Johannesburg, Madrid, Milan, Riyadh, Sao Paulo and Zurich.
Emirates will also introduce the A380 on its Istanbul services from 1 October – the first time the type will be deployed on that route.