Trouble with Pratt & Whitney PW1100G turbofans and broader aerospace industry supply chain problems might drive up fares and will delay at least some carriers' carbon-reduction plans.
That is according to Lufthansa chief executive Carsten Spohr, who says the current state of the aerospace manufacturing industry could make ticket bargains hard to find in the next year.
"I do believe that prices will be stable at least, or go up," Spohr says on 12 September in Washington, DC.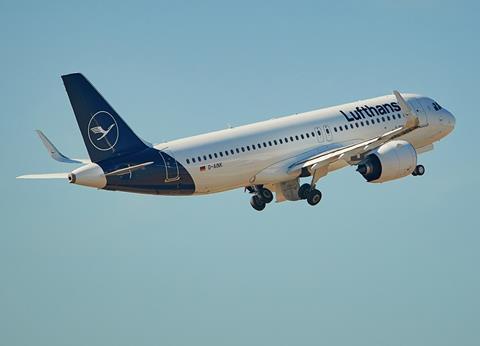 He notes that the global airline industry's supply of new aircraft is limited by production troubles and delivery delays, and that demand meanwhile continues ramping up.
"Prices are defined by the market… The demand has been continuing to be strong around the world… Growth of supply will be constrained" for the foreseeable future, Spohr says.
Industry conditions will also "make it more challenging to meet our [carbon-reduction] targets", he adds.
That is because Lufthansa, like other airlines, has been relying more heavily than expected on older, less-efficient jets.
Spohr says Lufthansa now intends to keep some of its first-generation A320ceo narrowbodies flying longer than previously planned. It is doing so because about half of its A320neo-family jets will be grounded in the coming year, a consequence of potentially defective disks inside the jets' Pratt & Whitney PW1100G turbofans.
P&W on 11 September said an average of 350 of PW1100G-powered aircraft will be grounded at any one time through 2026 for inspections and disk replacements.
That issue aside, Lufthansa is struggling to get its hands on new A320neos, as Airbus's deliveries have been held up by broad shortages of parts and skilled workers.
Spohr says A350 deliveries are also delayed, and Boeing is years behind its initial timeline for getting the 777-9 certificated. Lufthansa is a 777-9 launch customer, with orders for 20.
Boeing now says it plans to deliver the first 777-9 in 2025.
But the trouble has already prompted Lufthansa to press previously retired A380s back into service. By 2024 it plans to operate eight of the four-engined jumbos, which are less efficient than modern twin-engined jets like A350s and 777s.