While Air Lease executive chairman Steven Udvar-Hazy sees airlines giving greater attention to addressing environmental concerns in their fleet planning amid heightened pressure to tackle aviation's climate impact, he does not believe it will change the useful life of aircraft.
Speaking during a wide-ranging interview with FlightGlobal, Udvar-Hazy says: "We are definitely seeing a much greater environmental awareness in the fleet-planning process."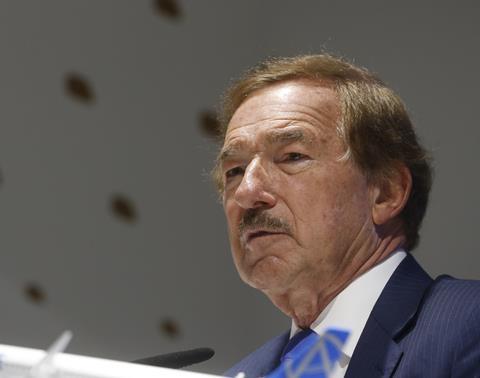 "There is a massive campaign against flying," he says, but adds: "I don't know what alternatives we have, I don't think we are going to go back and take the Queen Mary from London to New York on your next transatlantic crossing. I don't think we are going to go back to horse and buggies. So I think commercial aviation is here to stay.
"But what we are seeing is governments, and semi-government agencies, are going to tax and punish airlines that operate aircraft that are not the most advanced in terms of environmental compatibility. I think there is going to be economic discrimination against the previous-generation aircraft."
Some of the strongest environmental pressure is evident in Europe and he highlights measures such as the French government's moves to curb domestic flying in favour of high-speed rail, which formed part of the recent bail-out for Air France.
"What we are seeing now is airlines when they talk to us, they are much more focused on what's coming down the line in terms of cost of operating these aircraft beside from fuel and maintenance cost, crews, landing fees," he says.
"They are very concerned about what are the charges that are going to be imposed on the airlines, because they are operating the aircraft that are labelled as 'destroying the planet' and how much of the additional cost can they pass on to the consumer, the passenger.
"You could have a situation where those incremental costs that are imposed by government agencies could exceed the cost of operating the aircraft as a way of discouraging people from travel, particularly in the short-haul mode."
But while these pressures might curtail the operations of some aircraft by some airlines, particularly in Europe and North America, Udvar-Hazy believes the overall service life of aircraft is unlikely to be impacted.
"I do not think that the useful life of aircraft will be materially changed, because the aircraft that become obsolete in one part of the world, still have a great usefulness whether that is in Latin America or Africa or other places in the world, you have cargo conversions, you have military applications, there are all kinds of ways to redeploy these aircraft."
And he points to the example of what happened to Boeing 737 classics when Boeing developed its next-generation 737 family.
"It didn't instantly obsolete the -300s, -400s, -500s. We were able to redeploy those aircraft in many parts of the world."
Udvar-Hazy adds: "So I don't really see the 25-year useful life impacted too much. Now there maybe are certain types that are impacted to a greater degree, but overall I don't think there will be a major change to an aircraft's useful life."