African carrier Ethiopian Airlines is satisfied with modifications made to the flight-control system of the Boeing 737 Max and may bring the type back into service in the upcoming summer season, according to the carrier's chief executive Tewolde Gebremariam.
Speaking during a CAPA Live session today, Gebremariam said that, following a "thorough analysis" covering technical, commercial and operational factors, "we decided to continue with the [Max]".
That means the operator might resume operations with its four grounded Max 8 jets in July – and that it will also continue with its order for 25 more of the type.
Gebremariam's comments come after several national and international aviation safety agencies cleared the Max to resume commercial flights.
Amid those developments, Ethiopian has "also been following up through our expert technicians, engineers and pilots", Gebremariam says, and they "seem to be satisfied" that the modifications mandated will fully address issues with design of the MCAS flight-control system.
Problems with MCAS were cited as a key factor in the loss of Ethiopian Airlines flight ET302 in March 2019, which prompted global grounding of the Max following a similar accident with a Lion Air jet months earlier.
Despite Ethiopian's confidence in the type's safety, however, it still needs "to take time" to convince its employees and passengers "that this airplane is safe beyond any reasonable doubt", Gebremariam explains.
"As we have always maintained, we will not be among the first carriers to fly the airplane, because we are an airline that has been severely affected by the accident."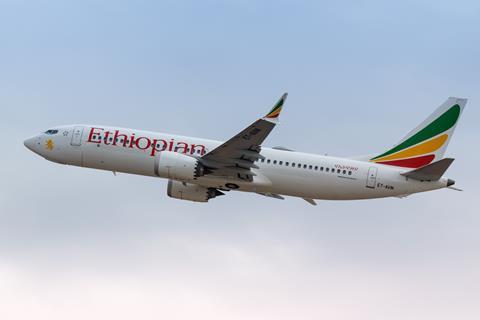 On the issue of passenger confidence, Gebremariam cites discussions with his sources at Boeing, who have suggested that "the reception of passengers has been good" during thousands of flights made by the type since the grounding was lifted.
"There was not a significant number of passengers who declined to fly on that airplane, so we will build on that in the next few months," Gebremariam says. "We may be able to start flying the airplane by summer. July, I would say."
By that point, he believes, the Max "will be a universally accepted airplane all over the world, which will [make it easier] for us to convince our passengers [of its safety] here in Ethiopia and in the region".
Regarding Ethiopian's outstanding orders for 25 Max 8s, Gebremariam states that "diversifying to another airplane in that category is not economically feasible for us", particularly given the carrier's existing infrastructure and experience as a 737NG operator.
He also says that Ethiopian is "almost on the final stage" of an "amicable settlement" with Boeing over the March 2019 crash. "I would say we will settle that in the month of February," Gebremariam says.