Taiwan's EVA Air is to purchase five Boeing 787-9s, in a deal valued at around $1.78 billion in list prices.
The transaction was disclosed in a stock exchange filing on 13 March, and will see the five aircraft delivered from 2025 through 2027.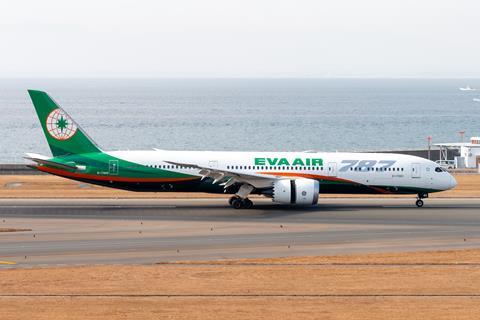 In a statement issued a day later, EVA Air says the new aircraft will be deployed on flights to Europe and North America, and is part of broader move to "increase competitiveness".
According to Cirium fleets data, the Star Alliance has a fleet of 10 in-service 787s, comprising four -9s and six -10s. EVA Air also has 11 787s on order, which will be delivered by 2025.
The deal makes EVA Air the second Taiwanese carrier in about six months to commit to new 787s. In August, compatriot China Airlines placed an order for 16 787s to replace its fleet of Airbus A330s.
The announcement comes as the airline ramps up its flying for the Northern Summer season. From mid-May the airline will increase flights to points in North America and Europe, including Los Angeles, Chicago and Milan.
Story updated with further details from EVA Air.