The Federal Aviation Administration has issued a sweeping order essentially prohibiting aircraft, including large jets, from using certain landing and navigation systems in areas of potential interference from new "5G" cellular networks.
The order, released 7 December, responds to concern about 5G interfering with aircraft radio altimeters. Those altimeters provide data used by automated flight control systems.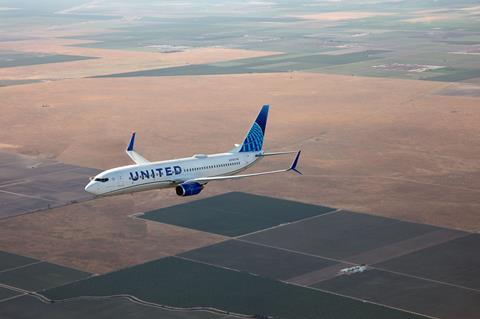 The FAA's order applies to some 6,834 transport and commuter aircraft equipped with radio altimeters – meaning essentially the entire US commercial fleet, plus many business and general aviation aircraft.
Such aircraft include those made by Airbus, ATR, Boeing, De Havilland Canada, Embraer, Gulfstream, Lockheed Martin and Textron.
The FAA on 7 December released a similar order applying to helicopters. Both are to take effect on 9 December.
The moves come as US wireless communications companies prepare on 5 January to start, in 46 markets, transmitting in the 3700-3800 MHz range – the "C-Band". That range is too close to the 4200-4400 MHz range used by aircraft radio altimeters, the FAA says.
The FAA's order requires aircraft operators to update flight manuals to restrict some operations when "in the presence of 5G C-Band wireless broadband interference".
Prohibited operations include instrument landing system approaches, "required navigation performance" operations, "automatic landing operations" and some use of enhanced flight vision systems and other flight control systems.
The FAA will identify areas affected by 5G interference in Notices to Airmen.
US cell companies have long transmitted between 3650 and 3700 MHz. But in March 2020, the Federal Communications Commission (FCC) approved them to begin using the 3700-3980 MHz range in phases, starting with 3700-3800 MHz transmissions. The companies already delayed the start from 5 December to January amid concern from the aviation industry.
"Radio altimeters cannot be relied upon to perform their intended function if they experience interference from wireless broadband operations," the FAA's order says.
The FAA's separate order for helicopters likewise prohibits automated flight that requires use of radio altimeter data in 5G-affected areas. Those operations include auto-hovering.
"The FAA believes the expansion of 5G and aviation will safely co-exist," the agency says. "Today, we took an important step toward that goal by issuing two airworthiness directives to provide a framework and to gather more information to avoid potential effects on aviation safety equipment."
The FAA is "working closely" on the issue with the FAA and cellular companies, it adds.
Airline trade group Airlines for America says it appreciates "ongoing coordination efforts of the FAA and the FCC, as they work toward a practical resolution that prioritises safety and avoids interruption to the aviation system".
"The FAA's airworthiness directive issued today identifies safety concerns and potential restrictions that could impact some commercial flights," the group adds.
Boeing says it supports "the FAA prioritising public and national airspace safety in its actions".
The aviation industry has long studied the 5G interference risk, and in April 2020 industry aeronautics technical group RTCA formed a task force to evaluate that risk. Members included the FAA, aircraft and altimeter manufacturers, and aircraft operators.
"5G base stations present a risk of harmful interference to radar altimeters across all aircraft types, with far-reaching consequences and impacts to aviation operation," says the resulting report, published by RTCA in 202
The report warned of potential interference from both transmissions from 5G base stations and from passengers' handheld phones.
The risk of interference is "inescapable" for regional aircraft and for business and general aviation aircraft, and nearly as severe for helicopters, RTCA concludes.
For large commercial aircraft, the risk is limited to "specific scenarios", but can cause "extreme" consequences in some circumstances, such as when aircraft are performing reduced-visibility instrument approaches, says the report.
In November, the FAA issued a Special Airworthiness Information Bulletin providing preliminary information about the potential 5G risk.
"There are ways that 5G can be deployed while maintaining our high level of aviation safety, and time is running out for the wireless industry and the broader aviation community to work together on implementing mitigations," says airline pilot union Air Line Pilots Association, International.
Story corrected on 8 December to note that the ADs take effect on 9 December, not 8 December.