Five Airbus A321neo aircraft operated by Hawaiian Airlines are grounded due to engine supply chain issues affecting customers of Pratt & Whitney's PW1100G engines.
"We are still plagued with limitations on our A321neo fleet capacity as a result of our engine suppliers' inability to meet fair engine commitments amidst an overtaxed engine overhaul supply chain," chief executive Peter Ingram said during parent company Hawaiian Holdings' first-quarter earnings call on 25 April.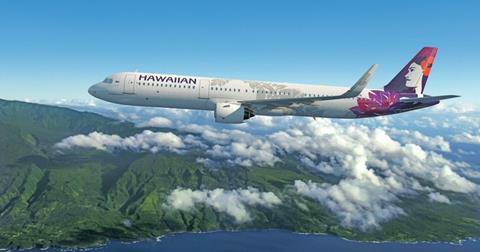 Five of the carrier's fleet of 18 A321neos are grounded because they are awaiting engines, amid global supply-chain and labour shortage issues that are affecting the ability of airlines to return to pre-pandemic operations.
"We expect to return one of these aircraft to service later this week, with another one returning about a week after that if the current plan holds," Ingram says. However, the grounded jets have caused Hawaiian to be "less aggressive in scheduling summer capacity overall than we otherwise would have been", he acknowledges.
'ROOT CANAL ISSUES'
Earlier this month, analysis of Cirium data revealed that nearly 12% of the global PW1100G-powered A320neo-family fleet is currently in storage. Though not all are stored due to engine-related issues, it is notable that the storage rate for GTF-powered jets is three times higher than that of the rival CFM International Leap-1A fleet.
The engine-related groundings are widely attributed to extended maintenance turnaround times, a shortage of spare engines due to supply chain shortages and durability issues with the next-generation P&W powerplants.
"It is causing airlines to not retire aircraft," Jonathan Berger, managing director of Alton Aviation Consultancy, told FlightGlobal during the MRO Americas conference in Atlanta on 19 April.
"They are staying in service longer, so there are less part-outs," he says. "There is less materials for shops to use, so there are longer engine turn times. Really, engines are the clog."
"Most people saw it is as general teething pains," Berger adds. "I like to say these are beyond teething pains – these are root canal issues."
WIDEBODIES TO THE MAINLAND
As demand recovery in Japan – one of Hawaiian's most critical markets – has remained slow, the A321neo grounding is forcing Hawaiian to use widebody jets to cover routes to the US mainland.
"Our Japan routes remain far from a complete recovery," Ingram says. "With the extension of slot flexibility for a few more months, we are going to fly less Japan capacity in the summer than we anticipated when building our 2023 plans."
Some of Hawaiian's passenger capacity will be shifted to the "more rewarding" US mainland market this summer travel season, Ingram says, but not as much as the company would like.
"We are working with Pratt & Whitney to find a way beyond this situation," he adds. "But in the meantime, some of the A330s that are flying to Japan are backfilling service on routes that we would prefer to operate with A321s."