Frontier Airlines marked the delivery of its first Airbus A321neo on 11 October, with the carrier's chief executive saying the jet will further strengthen Frontier's cost advantage and let it expand to new destinations, possibly including those outside North America.
Denver-based Frontier revealed the jet – decked out in a slightly tweaked paint scheme – at an event in Tampa.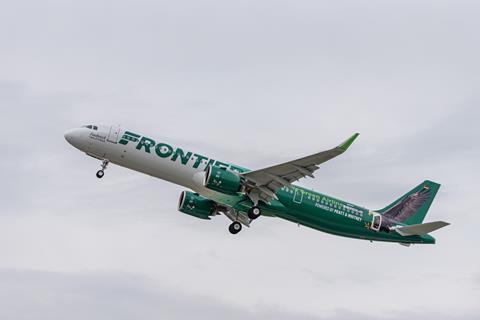 Executives from US engine manufacturer Pratt & Whitney were also on hand because the A321neo is Frontier's first jet in recent times to be powered by P&W turbofans – in this case PW1100Gs.
Speaking at the event, Frontier CEO Barry Biffle stresses the efficiency of Frontier's A321neos, saying they will burn less fuel per seat than any aircraft operated by competitors.
That efficiency advantage rests largely in Frontier's seat configuration – the airline is packing its A321neos with 240 seats, 10 more than its baseline A321s carry.
"It's going to get 120 miles per gallon, per seat," he says. "It's going to be the greenest airplane ever to fly in the United States."
Frontier intends to place its first A321neo (registration N603FR) into revenue service this week, operating it from Denver. Airbus assembled the aircraft at its Hamburg facility.
Frontier holds orders for another 157 of the 4,000nm (7,408km)-range A321neo, and orders for a further 18 of Airbus's in-development 4,700nm-range A321XLR, which the Toulouse airframer intends to begin delivering in 2024.
Frontier also has orders for 51 A320neos, saying the new jets will enable it to triple the size of its fleet by the end of the decade.
Of the new orders, Frontier has chosen to power 144 of them with PW1100Gs.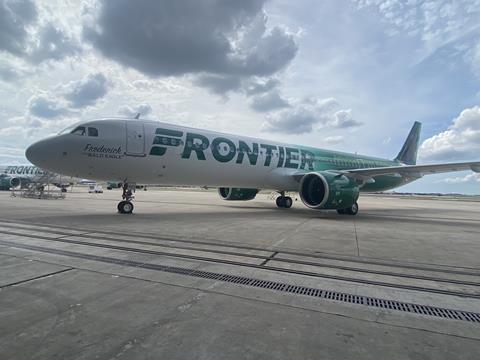 While Frontier's other aircraft have a predominately white fuselage, it tweaked its first A321neo to be white from nose to wings, and green from wings to tail. The fuselage reads, "America's Green Airline" and "Powered by Pratt & Whitney." Biffle says two additional aircraft will also get the new design.
A bald eagle adorns the new A321neo's tail – a nod to P&W's eagle logo and continuing Frontier's tradition of painting animals on the tails of its jets.
The carrier named its first A321neo "Frederick the Bald Eagle" in homage to P&W founder Frederick Rentschler.
Biffle says A321neos can operate about 80% of routes now in Frontier's network, which primarily involve flights in the continental USA.
Thanks to additional range, A321neos will allow Frontier to launch new routes, Biffle says. The carrier has not announced specific destinations, but several regions are now within reach.
"That aircraft enables us to fly to Europe… Hawaii and South America," Biffle says. "We haven't finalised where its going to go, but we are studying… all those categories."
He cites England and Ireland as possibilities, saying A321neos could reach those destinations from cities on the US East Coast, such as New York and Philadelphia.
"It enables the Frontier brand to really stretch out," Biffle says. "We didn't buy it to fly from New York to Florida."
This story has been corrected to update a figure in the fifth paragraph.