Garuda Indonesia is to return its Bombardier CRJ1000s to lessors, as part of a fleet rationalisation strategy that will see the carrier operate between 60 and 70 aircraft by year-end – lower than earlier estimates.
Garuda in a 2 August statement says it will remove its regional jet fleet in a "phased manner", starting with two examples (PK-GRQ and PK-GRN) which are leased from Nordic Aviation Capital and Export Development Canada.
Both jets are on their way to MHIRJ's service centre in Tucson, Arizona, according to the airline.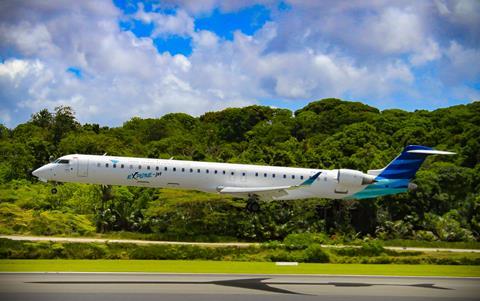 Garuda put its CRJ1000 fleet into storage through most of the pandemic, and as it entered into restructuring amid dire financial conditions.
The carrier, which recently gained court and creditor approval for its restructuring plan, at one point operated up to 18 CRJ1000s, which it received between 2012 and 2015.
The announcement is the latest in a series of fleet-related adjustments from the national carrier.
On 19 July, the airline removed the sole Boeing 737 Max (PK-GDA, MSN62093) from its fleet, returning the aircraft to lessor Bocomm Leasing.
The aircraft had been parked in Jakarta since 2019, following the worldwide grounding of the 737 Max after two fatal crashes. While Indonesia has lifted the operational ban on the type, Garuda never returned the type to service.
The SkyTeam carrier also announced plans to reactivate three more 737-800s to support an expected increase in domestic capacity in the near-term.
Garuda president director Irfan Setiaputra says the carrier's latest move was part of its "transformation…to strengthen operational fundamentals".
In his latest statement, Irfan adds: "This is also in line with our commitment to be more careful and prudent in [expanding] based on the need for more measurable production equipment and prioritising cost leadership bases in every process."
He reiterated that the airline is still in negotiations with lessors about lease contract changes or extensions, in order to help bring down costs.
Garuda's latest fleet projection stands at between 60 to 70 aircraft by year-end, a lower figure than was previously disclosed. In a television interview on 28 June, Indonesian deputy minister for state-owned enterprises Kartika Wirjoatmodjo said the airline expects to have "over 100 aircraft" back in its fleet by year-end.
The airline will shift its focus to more domestic and short-haul flying, with long-haul flying kept to a minimum. Consequently, the new strategy will see a fleet largely made up of narrowbodies, with around 20% widebodies.
Garuda narrowed its first-quarter losses, as revenue held steady and costs came down. It was $162 million in the red at the operating level for the three months to 31 March, compared to the $287 million operating loss posted during the same period in 2021.
Corrected: In an earlier version of the story, it was reported that Garuda was to reactivate its fleet of CRJ1000s. The story has since been amended to state that the airline is returning the aircraft to lessors.