US charter carrier GlobalX recently received its 10th passenger aircraft and has landed new contracts involving flights to the Caribbean, marking continued expansion for an airline that launched operations two year ago.
The Miami-based carrier placed a 20-year-old Airbus A319 into service on 1 September, bringing its total fleet to 12 Airbus narrowbodies, including two A321 Freighters, GlobalX said in a 5 September company update.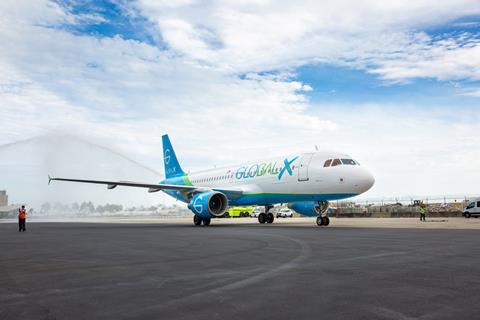 With registration number N285GX, the recently delivered A319 is configured to seat 112 passengers. The aircraft was assembled in Hamburg, made its first flight in February 2003 and was originally operated by Air Mauritius, according to Cirium fleets data. UK-based lessor Blue Peak Aviation owns the jet.
GlobalX, the operating brand of Global Crossing Airlines, expects to acquire two more passenger aircraft and four additional freighters before year-end, which would leave it with 18 aircraft, including 12 passenger jets and six cargo aircraft.
The carrier says it has secured $35 million in financing to fund its fleet-growth plan through the end of next year.
Chief financial officer Ryan Goepel tells FlightGlobal that operating 18 aircraft this year is "still the ambition", while cautioning that deliveries of the last two jets are "MRO-dependent".
GlobalX's profits took a hit in the second quarter due to delayed delivery of its second freighter, the company said on 9 August. The aircraft was set to be delivered in late 2022 but finally entered service in June.
The company posted a second-quarter loss of $7.5 million, compared with a $6.8 million loss during the same three-month period last year, partly as a result of the delivery delay. GlobalX also cited long turnaround times for aircraft maintenance as a limiting factor.
"While we had built in 90 days of flying for that airplane and 90 days of revenue for the quarter, we only got 10 days because of staffing issues and supply chain issues at the MROs," Ed Wegel, chief executive of GlobalX, said at the time.
Also on 5 September, GlobalX said it recently secured contracts with "two major tour operators", both of which call for thrice-weekly flights to cities in the Caribbean. GlobalX also has deals for new cargo routes to "several Caribbean countries, including Jamaica and Trinidad", it says.
During the third quarter, GlobalX has "successfully flown for Wizz Air, Lynx Air, TUI and Caribbean Airlines, and provided additional lift to our sister company, Canada Jetlines", the airline adds.
The carrier recently lost a customer when start-up discount airline Red Way collapsed after two months of operations. GlobalX had a deal to operate a single A320 from Lincoln, Nebraska to a handful of US leisure destinations on behalf of Red Way.
GlobalX did not respond to a request for comment about how Red Way's demise has affected its charter operations and aircraft-deployment strategy.
The airline says it operated more than 2,500 block hours in July and about 2,400 block hours in August, a 55% increase over last year.
"We expect a strong finish to the third quarter as we transition from our summer flying into our fall programme," says Wegel.