US start-up carrier GlobalX will take delivery of its third Airbus A321F on 10 October and plans to soon add two passenger jets.
The operating brand of Florida-based Global Crossing Airlines said on 5 October that its 11th A320 passenger aircraft will be delivered in late October, with another expected during the second week of November.
Those deliveries would boost GlobalX's fleet to 15 aircraft – 12 passenger jets and three freighters.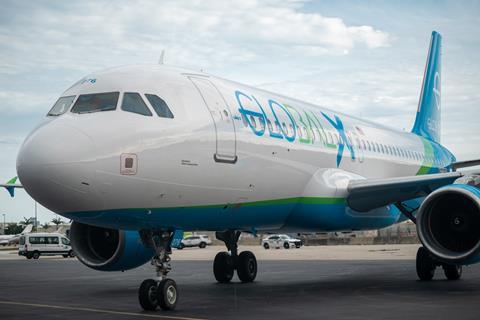 Having recently secured $35 million in financing to fund its fleet-growth plan through the end of 2024, the rapidly expanding start-up plans to operate a total of 18 aircraft by year's end. However, chief financial officer Ryan Goepel cautioned on 5 September that deliveries of the last two jets are "MRO-dependent".
The carrier is increasingly leaning on the ACMI (aircraft, crew, maintenance and insurance) model as the backbone of its business, GlobalX says. During the third quarter, 70% of its block hours were operated on an ACMI basis, compared with 38% of block hours during the same quarter last year.
During the summer travel season in the Northern Hemisphere, GlobalX flew on behalf of Wizz Air, Lynx Air, TUI, Caribbean Airlines and Canada Jetlines.
GlobalX will release its third-quarter finacial results during an earnings call on 8 November.