US charter carrier Global Crossings Airlines (GlobalX) has taken delivery of its seventh Airbus A320 for passenger operations through a lease with Irish lessor Airborne Capital.
The 150-seat narrowbody jet becomes the fifth A320 formerly operated by Alaska Airlines in GlobalX's fleet, the carrier said on 24 April.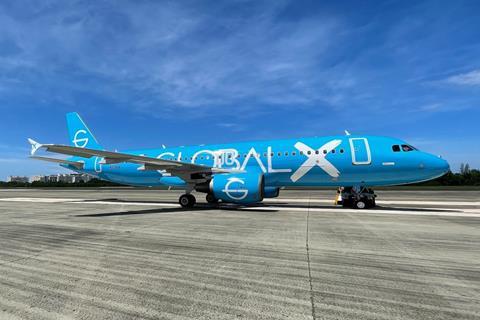 "We are pleased to be working with Airborne on this aircraft and we expect to develop a strong relationship with them as our fleet grows," says chief executive Ed Wegel.
The start-up expects deliveries of a further eight Airbus aircraft this year – three passenger jets and five freighters – pending approval by US regulators.
The Miami-based operator will take its next A321 freighter in May and its next passenger aircraft – an A319 – the following month.
"Assuming all of these aircraft are delivered, GlobalX will be operating 12 passenger A320 series aircraft and six A321 freighters by the end of the 2023," the carrier says.
Operating charter flights with a fleet of leased Airbus narrowbodies, GlobalX started flying passengers in August 2021 and is rapidly expanding its passenger and cargo operations.
GlobalX recently disclosed that it has a "wet" lease deal to operate two A320s on behalf of TUI Airlines Netherlands for the next three European summer travel seasons.
And last month, new discount charter carrier Red Way said that GlobalX will operate its flights this summer from Lincoln, Nebraska to seven US cities.