Brazilian carrier Gol has struck a deal with Boeing covering delivery of a dozen 737 Max 10 jets from 2027 as part of fleet plans which will also see it take 'white-tail' aircraft to help reach its target of having 44 Max aircraft by year-end.
Gol disclosed the changes in releasing its third-quarter results today, saying it reached agreement with the manufacturer earlier in October on delivery of six Max 8s by the end of the first quarter of 2023.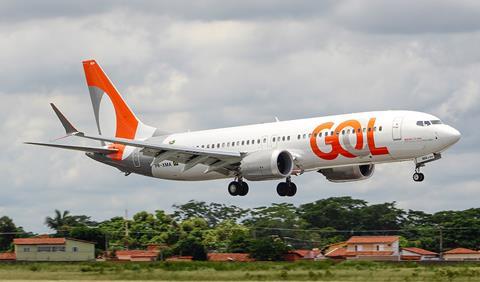 The low-cost operator took delivery of three Max 8s during the third quarter, taking its Max fleet to 37 – just over a quarter of its 145-strong fleet of Boeing narrowbodies.
"As we have been highlighting the last couple of quarters, we have been accelerating and pivoting our transition to the Max," says Gol chief financial officer Richard Lark on 27 October. "Part of that will come off our order book with Boeing and part will come from aircraft that are available in the 'white-tail' market. And we are having success. We are getting what we need and we are also able to 100% finance that."
White-tail jets are typically those ordered by customers who end up not taking delivery, freeing the aircraft for sale to other customers.
Gol chief executive Celso Ferrer says the fleet changes are part of the airline's fleet-acceleration programme, disclosed in January. Under the plan, Gol intends to receive a dozen Max 8s this year, bringing its fleet of the type to 44, and to return 18 737NGs.
"We are receiving the aircraft at a lower rate than we were expecting, but the white tails… are the main tool for us to have access to the new technology we need," Ferrer says. "That's why we are going to take another six to the end of the year now… This is a way for us to re-accelerate the fleet while the whole aviation industry is facing hurdles in the delivery of planes."
Gol says the agreement reached with Boeing covers delivery of 12 more Max 10s. The company holds outstanding orders for 96 Max, including 66 Max 8s and 30 Max 10s, according to Cirium data.
"The additional 12 Max 10 are to be delivered between 2027 and 2030," says Ferrer. "The Max 10 will be really important for us to reduce even further our [unit cost]. We expect to have the first Max 10 by 2025, and those incrementals will be to have the right number of Max 10s in the fleet mix."
Boeing is still working to certificate the Max 10 (and the Max 7), but faces a critical December deadline. Ferrer says Gol has the option to switch Max 10s to other versions, but is confident the type will be approved.
"We believe the Max 10 will be certified; that is the assumption we have in our plan," he says. "Our first Max 10 is scheduled to be delivered in 2025, so we don't see a major risk that may change."