Hawaiian Airlines has not "yet fully calibrated the impact" of 25 July news that Pratt & Whitney needs to inspect some 1,200 of its next-generation turbofan engines, but acknowledges that operations are hindered by "engine unavailability".
The Honolulu-based carrier operates 18 Airbus A321neos – all powered by the PW1000G engines in question – but chief executive Peter Ingram does not anticipate the carrier needing "major surgery" on its narrowbody fleet, as only a "fairly small number" of its GTF engines will need to be returned to P&W for inspection and partial disassembly over the next nine to 12 months.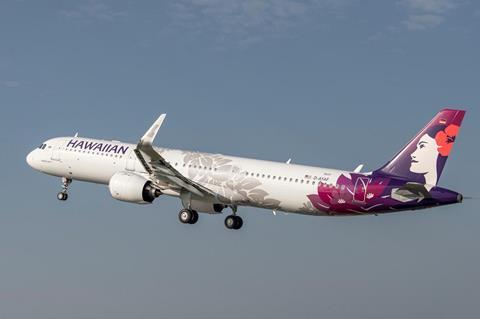 "Not all of our engines on wing now are affected, because a number of those engines have been in the shop since then and some have had parts replaced," he says, speaking during the company's 25 July earnings call. "Some of the engines that are operating in our fleet today are spares that may have been produced outside" P&W's problematic production window.
"We think it is a limited number of… specific engines that need to be worked on," he adds.
Still, the carrier acknowledges that P&W's recall is the latest in a long series of engine-related issues for its new narrowbodies. Several months ago, five of Hawaiian's A321neos were grounded, awaiting engines.
In recent months, the carrier has had "two and sometimes three" A321neos grounded at a given time, Ingram says.
"Given today's news from Pratt & Whitney, it will likely be a few more quarters until we have the entire A321 fleet available," says Brent Overbeek, the airline's chief revenue officer.
Hawaiian notes it has received maintenance credits from P&W to offset costs from grounded jets "due to engine unavailability".
The carrier reports losing $12.3 million during the second quarter of 2023 – compared with a $47.4 million loss during the same three months last year – as it looks to capitalise on rebounding international travel from Hawaii to Japan in the months ahead.