Hawaiian Airlines expects to decide on a replacement for its short-haul Boeing 717 fleet in the coming months.
Peter Ingram, chief executive of the Honolulu-based carrier, told FlightGlobal on 24 August that he expects the airline to make a decision on the aircraft's successor "by late this year or early next year".
"We haven't made a decision at this point on a replacement," he adds. "We are in the midst of some analysis work. [The decision] will position us for moving towards the replacement of that fleet towards the latter part of the decade."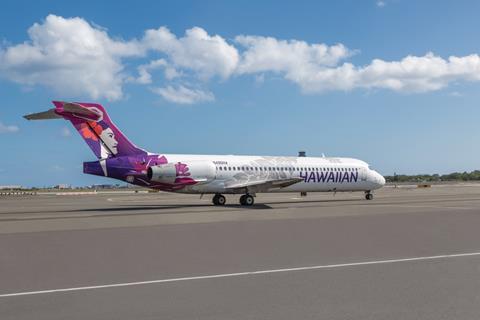 The airline operates 19 717s equipped with 128 seats each and ranging in age from 19 to almost 25 years, according to Cirium data. The narrowbody jets are the carrier's workhorses, logging up to 16 cycles daily on routes to and from five airports across the Hawaiian archipelago, which is 2,500nm (4,000km) southeast of the US mainland.
The short distances of those flights, brief flight times (30-60min) and the region's humid and salty ocean air make for punishing operating conditions. Half of the airline's annual passenger count – about 6 million – travel on these inter-island flights.
For example, the total flight time from Honolulu to Kahului on the island of Maui – the carrier's busiest inter-island route – is about 45min, with Hawaiian's 717s cruising at about 13,000ft for only 20min.
Hawaiian and Delta Air Lines are the only US carriers still flying 717s. Qantas subsidiaries also operate a sizeable 717 fleet.
Possible replacements for the aircraft include Airbus A319s and A220s, and Embraer 195-E2s, Ingram said in 2019.