AirAsia Group chief executive Tony Fernandes says he has found it "painful" how a minority of lessors have treated the business during the Covid-19 crisis.
Speaking during a CAPA Live event today, Fernandes stated that most lessors "have been fantastic", but "not every lessor".
"My most important lesson from this is you could be paying someone for 19 years, you could have grown their business… they've made so much money from us, but they forget that in one week when you miss a payment," he says, without naming the lessors he is referring to. "It is painful to see how we're treated sometimes."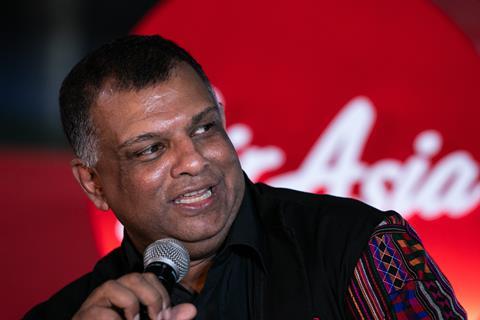 Describing AirAsia as "a very emotional airline", Fernandes says he "will not forget the guys who have treated us badly after we've treated them so well, and I'm so motivated".
There was "nothing I could do" when the group was unable to operate flights, Fernandes insists regarding the business's ability to meet its financial commitments during the crisis. "It's amazing we're still alive after 16 months", he adds, but AirAsia will "come back stronger".
During that recovery, AirAsia will "not forget the guys who have treated us great", he notes.
As things stand – and taking into account the fact that a minority of the group's aircraft are presently in service – Malaysia and Thailand currently "look the strongest", Fernandes says of AirAsia's main markets, with "the Philippines next and Indonesia the weakest". The latter is being particularly affected by high Covid-19 case rates, "but there's a silver lining there that we may be able to grow quicker afterwards", he says, citing the capacity upheaval created by the pandemic.
"Where I could never see myself being number one, I have a shot now," Fernandes states. "It's like 'all bets off'… we're back in the ring."
Short-haul operator AirAsia, its regional affiliates and long-haul unit AirAsia X lease aircraft from more than two-dozen lessors, with BBAM, Aircastle and Avolon being among the largest providers, according to Cirium fleets data.
Amid a restructuring effort across the group's airlines, some unnamed lessors recently expressed doubts about the viability of the business plans being implemented, particularly around equity fundraising.