Iberia is taking 29 narrowbodies out of storage and retuning them to service this summer, and is reconverting three Airbus A330s from freighter aircraft back into passenger jets.
The Spanish carrier's maintenance division says that after more than a year on the ground, the 29 A320-family jets are being checked and overhauled ready for their return to service in June. Six of the aircraft will be operated by Iberia Express, with the remaining 23 destined for Iberia's mainline operation.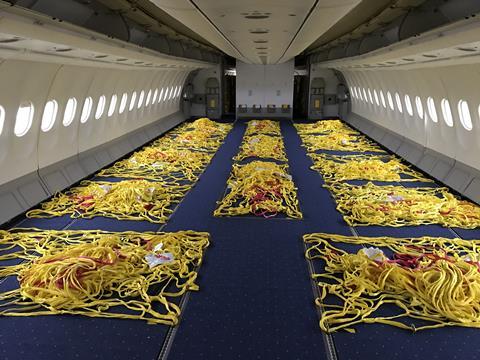 Iberia was one of a number of airlines that reconfigured passenger aircraft into freighters when the Covid-19 pandemic struck, in order to meet rising demand for cargo as travel restrictions kept passenger numbers low.
The carrier's maintenance unit says it is "already working on converting three A330s back to their original configuration". The aircraft were converted into freighters at the end of 2020, "to adapt to the new market situation and take advantage of all opportunities", says Iberia.
With these aircraft now needed for passenger services "in the coming weeks", seats are being reinstalled so that all three aircraft can carry passengers in June. Iberia will next month resume flights to destinations in Italy, Croatia, Portugal and the USA.
Earlier this week, the IAG-owned carrier unveiled a four-year plan to recover from the pandemic. The four-pillar plan involves developing its Madrid hub, ensuring future sustainability, boosting consumer confidence in air travel, and turning employees into "brand ambassadors".