US carrier JetBlue Airways will soon start flying the first aircraft painted with its new standard livery – a blue, white and "mint" design that will eventually colour all of its jets.
JetBlue said on 14 June that the freshly painted Airbus A321 would enter service the next day. The carrier "plans to refresh all of its current standard liveries as part of its normal aircraft painting cycle", it adds, with a variety of tail patterns to come.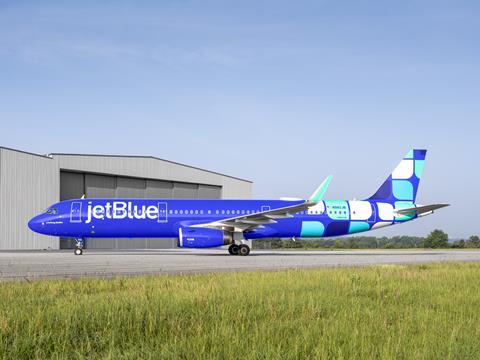 JetBlue operates 275 aircraft, most of which are Airbus narrowbody jets, according to Cirium fleets data. The carrier also flies 45 Embraer E190s.
The new livery's tail pattern has been "energised and extended" to the body and belly of the aircraft to make JetBlue's aircraft recognisable from below. Other touches include a larger logo and highlighted winglets.
"The new livery helps us stand out among a sky of legacy carriers, and is a stunning reflection of our role as a disruptor that uniquely combines lower fares and great service," says Jayne O'Brien, head of marketing and loyalty for JetBlue.
The new-look livery is part of a broader brand update for JetBlue, its first in 10 years. "The new colours and designs reflect a more joyful, contemporary and digital-first appearance," it says.
The brand makeover comes amid a tumultuous time for the New York-based airline.
In May, the US federal government won its lawsuit against American Airlines and JetBlue, with a judge ordering the carriers to unwind their four-year collaboration known as the "Northeast Alliance" within 30 days. The carriers were also given 21 days to react.
And its proposed acquisition of ultra-low-cost competitor Spirit Airlines is the target of another lawsuit from the US Department of Justice. In March, the DOJ sued to block the $3.8 billion tie-up on antitrust grounds, with the case currently set for a court trial in October.
JetBlue recently entered a divestiture agreement to give Spirit's assets at New York's LaGuardia airport to rival ultra-low cost carrier Frontier Airlines, contingent upon closing the deal to purchase Spirit.
The company generated a company-record $2.3 billion of revenue during the first quarter of 2023, compared with $1.7 billion during the same period last year.