Low-cost carrier group Jetstar is to "temporarily" move six Airbus A320s from its Jetstar Japan unit to its Australian operation, as the latter's relatively strong domestic market provides an outlet for capacity.
Speaking during a CAPA Live event today, Jetstar chief executive Gareth Evans said that while the group remains committed to Jetstar Japan – which is a partnership between Qantas, Japan Airlines and Tokyo Century Corporation – the slower recovery pace in Japan and the demise of Virgin Australia's Tigerair Australia unit meant there was a greater need for capacity in its home country.
"We're looking to bring six of the Jetstar Japan aircraft down to Australia… for a temporary period – not permanently but for two to three years perhaps to provide some capacity for growth to Jetstar domestically and potentially to leverage into Western Australia as well," Evans says.
That means Jetstar Japan's fleet falling from 25 aircraft to 19, amid a continued effort to serve largely domestic routes in the country.
In mid-2020, Qantas-owned Jetstar had already moved five aircraft out of the Singapore-based Jetstar Asia operation, which is suffering from the impact of travel restrictions and a lack of long-haul feeder flights, with four jets moving to its Australian unit and one being returned to the lessor. That left Jetstar Asia with 13 aircraft in its fleet.
In Australia, "Jetstar is going to grow", Evans states, despite competition from a relaunched Virgin Australia and Rex's first foray into domestic operations.
"We're not going to overheat the market… but we've got a right to grow," he adds.
Jetstar Airways is expecting to be at around 90% of pre-crisis capacity on its Australian domestic network in March, Evans notes, with its New Zealand domestic operations having achieved around 80% of 2019 levels at points, before Covid-19 cases prompted a lockdown in Auckland in late February.
In Austalia, Jetstar Airways had been planning to exceed 2019 capacity on domestic services in February and March this year, but a lockdown in its home city of Melbourne in mid-February stymied those efforts.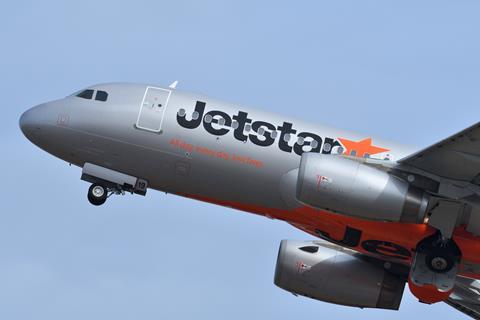 The shifting of aircraft to Australia will also "bridge growth" until Jetstar Airways takes delivery of its first Airbus A321LR jets – a milestone that has been pushed "out into 2022-23" amid the impact of the pandemic, with its first example of 18 originally due to be delivered last year.
"Clearly we want to start taking the [A231LRs] when our balance sheet is ready, and that will give us another boost from a cost-base perspective," Evans states.
Noting that the A321LRs "can be flexed between international and domestic, and that's a very valuable", Evans also explains that "we can fly them to Bali and free up a 787… you essentially get a free long-haul plane off the back of putting [A321LRs] on to medium-haul intentional flying".
Jetstar Japan has also ordered a number of A321LRs via lessors, with Evans suggesting these will still be taken "at the right time" on a lease-for-lease basis.
Jetstar Airways is hoping to reinstate international services from Australia once there has been a widespread rollout of Covid-19 vaccinations – a point Evans expects the country to reach around October this year.
He explains that Jetstar Airways is prepared to deploy international capacity "anywhere and everywhere that Australians want to fly to" on holiday, but that Bali and New Zealand are likely to remain crucial markets.
Before that point, Jetstar Airways may deploy some of its Boeing 787-8s on Australian domestic services, Evans says.
"Potentially we could look at getting some 787s flying domestically… particularly if domestic borders stay open and… we need some more domestic lift around the peak periods," he states.
Cirium fleets data shows Jetstar Airways – which covers the group's Australia and New Zealand operations – has 49 A320s, eight A321s and 11 Boeing 787-8s in its fleet.