Kenya Airways is removing seats on two of its Boeing 787s to increase capacity for pure freight flights.
The airline says that it completed the first aircraft in January and has thereby become the first operator to configure a 787 for main-deck cargo transport.
Up to 16t can be carried on the passenger deck under the modification, bringing the aircraft's maximum cargo payload to 46t, the airline adds.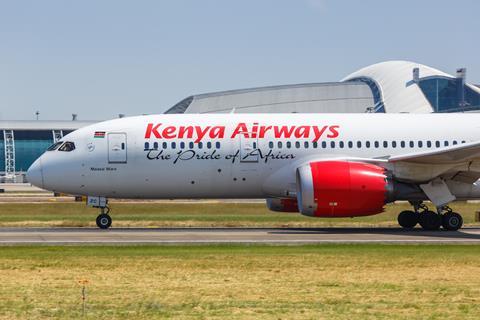 Kenya conducted the modification in-house under supervision of Canadian MRO provider Avianor.
The project represented a "unique design and certification challenge", states Avianor chief executive Matthieu Duhaime.
Kenya started using some of its nine 787s for cargo-only flights in 2020, but found that the seats limited cargo capacity.
Noting growth in air cargo demand, the airline says that the reconfiguration project "demonstrates our agility, innovation and quick thinking… to keep essential goods moving across the globe".
Gilbert Kibe, director general of the Kenya Civil Aviation Authority, states: "This project is economically significant as it will retain and create new jobs as well as support Kenya Airways in its recovery efforts to diversify revenues. More importantly, with the upcoming vaccination distribution, Kenya Airways has readily positioned itself to transport the vaccines destined for Africa and other destinations."