Korean Air's plan to raise to capacity as Covid travel restrictions continue to ease will come as some of its grounded aircraft are returned to service and the airline prepares to introduce its second new aircraft type this year.
The SkyTeam carrier is set to take delivery of its first Airbus A321neos in September, having introduced its first Boeing 737 Max 8 in March.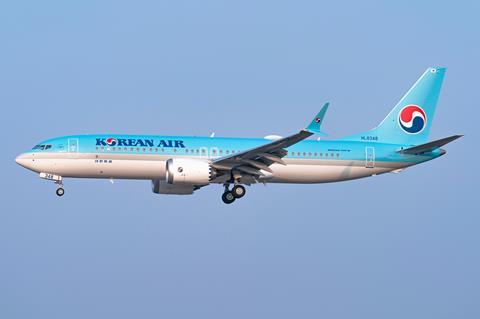 "I'm very happy with the aircraft, it's very economical, very reliable," Korean Air chief executive Walter Cho said of the Max during a media round table at the recent IATA AGM in Doha.
Korean Air ordered 30 Max 8s in 2015 and, after taking delivery of the first of the type in February, is operating three Max 8s.
"Our fourth one is with Jin Air," he says, referring to the airline's low-cost unit. "Our plan is to put eight Max's there [Jin Air] and it will keep its NGs," he says. Cirium fleet's data show Jin Air operates 21 Boeing 737-800/900s.
Korean Air is also preparing for the arrival for the first of 50 A321neos. "They should be coming in very soon," says Cho. "We have three deliveries this year from September. The A321 will have full-flat seats and will be used in Asia for long-distance routes."
The airline is currently at about 30% of pre-Covid capacity levels as border restrictions in the region have slowly begun easing. It has outlined plans to lift this to around 50% by adding frequencies and capacity from July.
That includes deploying Airbus A380s onto its Hong Kong and Tokyo Narita routes by September, on top of plans to operate the superjumbo on New York flights in July.
"Nine out of 10 [A380s] were stored," says Cho. "We are in the process of destoraging one at this time, and will probably have three by the end of the year, and the rest shortly [after].
"Passengers love the plane and we have a lot of business class seats on it, so it's a very good aircraft to fly on high demand routes."
The airline also parked its Boeing 747-8s during the crisis – Cirium fleets data shows most of which are back in service.
"The 787s and 777s have been very busy [during the pandemic] – as cargo and passenger aircraft – because 777 with passenger seats on it would replace all of our A380s routes [during the crisis], and the 787 has been flying everywhere," Cho explains.
The exception has been Korean's Pratt & Whitney PW4000-powered Boeing 777s – of which together with Jin Air it has 20 – and which have been grounded since engine issues emerged in February 2021. Earlier lier in June became the first Asia-Pacific carrier to bring the type back into service.
"Most of our narrowbodies have been flying domestic [routes]. About half of our 737s have been flying, but we have been switching [them] in and out so they are never stored," Cho adds.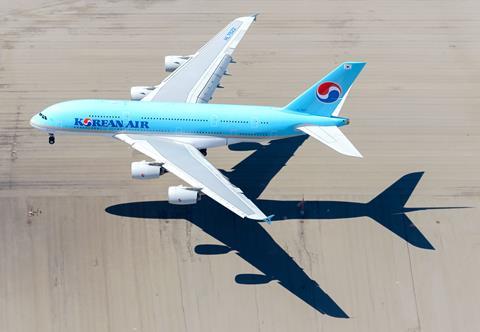 While the easing in travel restrictions is prompting Korean to lift its passenger capacity, the key Chinese market remains essentially closed amid the zero-Covid strategy in the country. Before the pandemic the airline served 28 destinations in China around 150 frequencies, accounting for around a fifth of its network.
Alongside lingering Covid travel restrictions, Cho also flags potential economic headwinds beyond the summer including the impact of high inflation and a weakening Korean currency against the US dollar.
"Right now people want to travel because they have money to spare, but will they towards the end of this year or next year? Counting this inflation, this exchange rate, will they have spare cash to spend on travel expenses, with the high fares coming? It all depends on what happens with the economy and the fuel prices."