Lufthansa Cargo will in October retire its last remaining Boeing MD-11 freighter after operating the the trijet type for more than two decades.
The airline had introduced the MD-11 as new-build freighters in 1998, to begin gradually replacing a fleet of 11 747-200Fs.
Cirium fleets data shows that Lufthansa Cargo's MD-11F operation grew from the initial five aircraft had entered service during the first year to 14 in 2003, all powered by GE Aviation CF6-80C2 engines.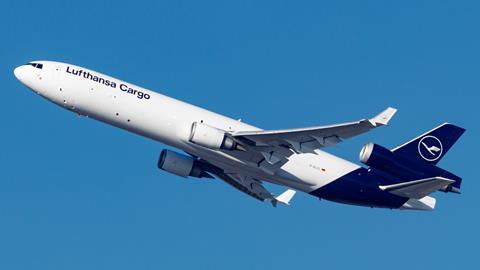 Lufthansa Cargo subsequently sourced additional MD-11s from the second-hand market as Boeing had ended the type's production in 2000. This included three MD-11 passenger jets from Alitalia and two from now-defunct Brazilian carrier VASP which underwent passenger-to-freighter (P2F) conversion before joining Lufthansa Cargo's fleet.
While the former Alitalia and VASP aircraft were CF6-powered, Lufthansa Cargo additionally acquired three Pratt & Whitney PW4000-powered MD-11s.
In 2007, the German carrier's MD-11F fleet peaked at 22 aircraft, while the last 747-200F left the fleet that year.
From the peak, Lufthansa Cargo's MD-11F fleet declined to 16 aircraft during the global financial crisis in 2009, but then rose to 18.
The airline's first 777F entered service in 2013. Lufthansa Cargo initially introduced five of the GE90-powered twinjets and kept that fleet stable until 2018.
Since then, the airline has converted five 777F options and, most recently, sourced an additional 777F from the second-hand market. The latter aircraft (D-ALFJ) was manufactured in 2011 and originally delivered to Emirates. It is managed by DAE Capital.
Meanwhile, Lufthansa Cargo's MD-11F fleet declined from 12 aircraft in 2018 to a single unit today. That aircraft (D-ALCC) was built in 1998 and will operate its last scheduled service with Lufthansa Cargo to its Frankfurt base on 15 October, the carrier says.