Lufthansa Group chief executive Carsten Spohr says the first of the airline's new Airbus A350-1000s will arrive in the fleet in 2026.
"The Airbus A350-1000 is the big sister of the Airbus A350-900," Spohr said in prepared remarks published on 1 May ahead of the company's annual general meeting next week. "So far, we are not flying the A350-1000. All the more reason for us to look forward to the first deliveries. They will start in 2026."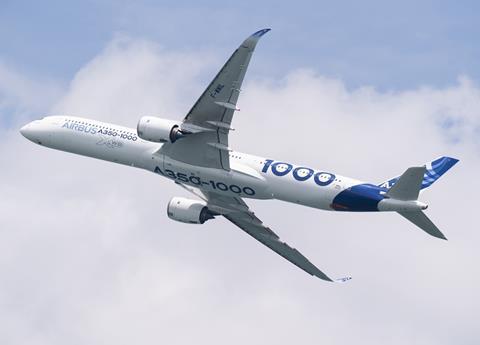 In March, the German carrier ordered 15 more Airbus A350s, including its first -1000s, and seven additional Boeing 787s, for delivery from the middle of this decade. The deal covers 10 A350-1000s and five of the smaller -900s. The group already operates 21 A350-900s and the additional commitment means it has 33 more -900s to come.
"With a fuselage length of almost 74 meters, it is about seven meters longer [than the -900 version]. Due to the longer fuselage, the aircraft has a capacity that is about 15 percent higher than the A350-900's, with a slightly shorter range," he adds.
The company also holds orders for 20 777-9s, deliveries of which have been delayed until the middle of this decade.
"We should have been operating this aircraft in service for two years already," Spohr tells shareholders of the 777-9, in prepared remarks. "But, unfortunately, Boeing has major delays. As a result, it will probably take until 2025. We do not expect the first delivery before then."
In all, the company has placed orders for "almost 200 new aircraft", Spohr says. "With a listed value of $48 billion in total [and] delivery dates until 2030… it is by far the biggest investment programme in our corporate history."
During 2023, Lufthansa expects to receive about 35 new aircraft – about one every ten days, he says.
Lufthansa will hold its virtual 2023 annual general meeting on 9 May.