Lufthansa Group will look at the opportunistic acquisition of widebody aircraft, particularly Airbus A350s and Boeing 787s, that were previously destined for sanction-hit Russian carriers.
Speaking during a full-year results briefing on 3 March, Lufthansa Group chief executive Carsten Spohr said that while it is not looking to change its overall fleet strategy, aircraft could come onto the market which are no longer able to be delivered to Russian airlines as planned.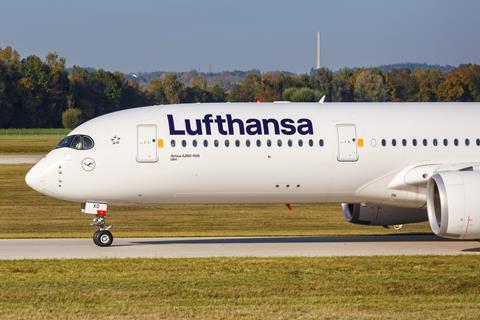 "Given recent tragic events, I expect more developments here as far as these aircraft types are concerned because certain aircraft cannot be delivered to Russian airlines," he says. "We will have to see which airlines will be able to afford these aircraft and this of course will also change the terms and conditions in the market.
"We are not questioning our fleet," he adds, but says: "We want to make our fleet more uniform throughout the group. We are looking at aircraft where there will be more need in future."
Spohr says this would primarily cover A350s and 787s as well as A320neo-family narrowbodies, or potentially freighters.
"We are very happy with the cargo business and maybe if there are cargo aircraft in the market at good prices, we will look at this again," he adds.
Lufthansa last October leased four more A350-900s for this summer to take its fleet of the type to 21, with a further 28 units on order.
The only Russian customer for the A350 is Aeroflot, which still has outstanding orders for 14 units, according to the airframer's data to the end of January.
Lufthansa also has 25 Boeing 787s on order, the first of which is due for delivery in the second quarter of this year.
In the longer term, the group will also add 777-9s, of which it has 20 on firm order. But certification delays have pushed back the date of the first deliveries, which are now not scheduled before late 2023.
Spohr is relatively sanguine about the delivery schedule and reaffirms the carrrier's long-term commitment to the widebody twin.
"We expect delivery late in the year in 2023. If delays occur… we do have respective provisions in the contract," he says.
"We believe in this aircraft. It is going to be the most efficient long-haul aircraft in the world. If you are able to fly an aircraft for 25-30 years, it really doesn't matter whether you get it a few months earlier or later."
Prior to the crisis the carrier group was operating 800 aircraft, but that total has declined amid retirements and groundings.
Spohr points to "uncertainties about how the situation is going to evolve", but says group airlines will be collectively operating 650 aircraft this summer, rising to 700-710 the following year. "For 2024, we want to be between 700 and 800, but it is too early to tell [exactly]."