Lufthansa expects to continue operating its recommissioned Airbus A380s through the late 2020s or early 2030s due to factors including delayed deliveries of new Boeing 777-9s.
That is according to the airline's chief executive Carsten Spohr, who on 12 September said bringing the double-deck type back into service will allow Lufthansa to expand internationally even as supply chain and quality issues slow deliveries of new aircraft.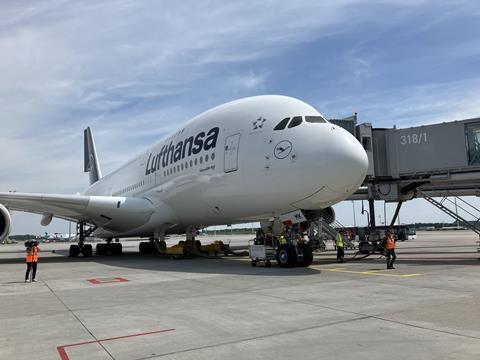 "Late 20s, early 30s," Spohr says when asked how long Lufthansa expects to continue operating its Rolls-Royce Trent 900-powered A380s. "It depends on demand, and when Airbus and Boeing are able to deliver other airplanes."
During the Covid-19 pandemic, Lufthansa grounded its then 14-strong A380 fleet. It eventually sold six of the jets.
The airline then decided on a reprieve for the A380: in June, Lufthansa pressed one of the jets back into service as part of a plan to recommission six.
But in recent weeks, Lufthansa's top brass decided to expand the active fleet to include all eight of its remaining A380s by 2024.
"The eight we own will all be back… including with a new business [-class] product," says Spohr.
Lufthansa now operates three of the jumbos on routes including Munich to New York and Boston, and by 2025 plans to deploy them to additional destinations like New Delhi and Washington-Dulles airport.
Spohr describes the double-deckers as a valuable tool that will allow Lufthansa to backfill some capacity that it expected to have – but does not – because Airbus and Boeing are not making good on delivery promises.
With the A380s, Lufthansa can continue international expansion, he adds. A handful of other airlines – British Airways, Emirates Airline, Korean Air, Qantas and Singapore Airlines – also operate A380s, Cirium data shows.
Lufthansa's fleet plan has been particularly disrupted by Boeing's ongoing delays to certification and service entry of its 777-9. The German carrier and Emirates are both 777-9 "launch customers".
Boeing in 2022 delayed its planned first 777-9 delivery by two years, until 2025, saying certification had been slower than expected amid heightened scrutiny by the Federal Aviation Administration.
Lufthansa holds orders for 20 777-9s, according to Boeing data.
Spohr notes Lufthansa is also waiting on delayed Airbus deliveries: "We have A320s sitting on the ground in Toulouse [and] Hamburg. There's A350s on the ground in Toulouse. We're waiting for almost every aircraft right now."
Lufthansa has outstanding orders with Airbus for 51 A320neo-family jets and for 38 A350s, Cirium data shows.