Lufthansa Group has ordered 10 Airbus and Boeing widebodies as it continues modernising its fleet, with the goal of reducing fuel consumption, complexity and cost.
The German carrier has placed orders for five A350-900s and five 787-9 Dreamliners, bringing the number of new aircraft to be delivered in this decade to 175, it says on 3 May.
The twin-engined types will replace the airline's four-engined A340-family aircraft.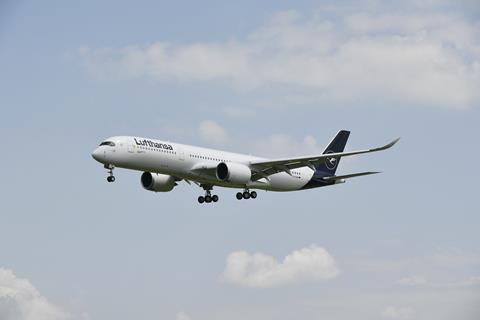 "Even in these challenging times, we are continuing to invest in a more-modern, more-efficient and a lower-emission Lufthansa Group fleet," says the carrier's chief executive Carsten Spohr. "At the same time, we are pushing ahead with the modernisation of our long-haul fleet even faster than planned prior to the coronavirus pandemic due to anti-cyclical opportunities."
The first of the US-made Dreamliners will join the fleet during the coming winter season, the airline says, and the following will arrive in the first half of 2022.
Due to the coronavirus crisis, Lufthansa has " found a way" to take delivery of aircraft already assembled for other airlines that have delayed or cancelled orders.
The carrier now has a mix of 45 787s and 777s on order with Chicago-based Boeing, Lufthansa says.
The five new A350s will be delivered in 2027 and 2028, the carrier says, adding that its order book with the Toulouse-headquartered European manufacturer now rises to 45 of the type. Lufthansa already has 17 A350s in service, Cirium data shows.
"With the Airbus A350-900, the Boeing 777-9 and the Boeing 787-9, the Lufthansa Group will operate the most fuel-efficient long-haul aircraft in terms of kerosene consumption per passenger and 100 kilometres flown," the airline says.
It has reached agreements with both airframers to restructure planned deliveries.
By the middle of the decade, the percent of four-engine long-haul aircraft in the carrier's fleet will fall to just 15%, from about 50% prior to the global pandemic, Lufthansa adds. The new aircraft will reduce fleet complexity and add efficiency.
On average, the new jets use 30% less fuel than predecessor models, and will reduce the airline's costs about 15%.
Additionally, the airline intends to take delivery of one new A320-family aircraft monthly, on average, this year. It expects to have received 107 new A320s by 2027.
Lufthansa holds its annual shareholder meeting on 4 May.
Last week, the company published document saying it repaid half of the €2.3 billion ($2.8 billion) it drew through German stabilisation measures, and that it is seeking shareholder authority for another possible capital increase.