Lufthansa Group foresees that Eurowings will operate no more than seven long-haul aircraft in 2021 amid plans for the low-cost subsidiary's intercontinental operations to be consolidated in new unit Ocean.
Prior to the crisis, some 14 long-haul jets – mainly Airbus A330s, but also A340s – were operated under the Eurowings brand. These included Brussels Airlines aircraft and seven A330s operated by the German arm of SunExpress, the leisure carrier jointly owned by Lufthansa and Turkish Airlines.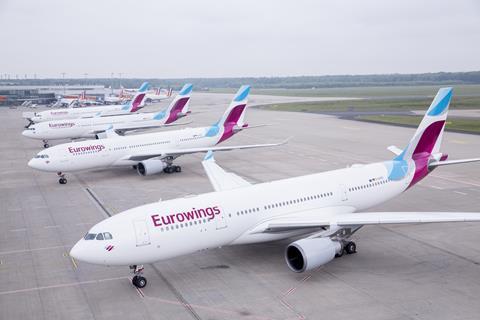 SunExpress in June disclosed a decision to dissolve its German operation.
Lufthansa Group chief executive Carsten Spohr said during a 5 November results briefing that the company was "forced" to place the long aircraft under a single, new AOC, noting that this would also include long-haul aircraft at Lufthansa's regional unit CityLine.
Spohr says management is "evaluating" the possibility of consolidating the aircraft under the AOC of new standalone entity Ocean by the end of 2021. All aircraft will be operated under the Eurowings brand, he says.
Until the new AOC consolidation has been completed, Brussels Airlines will most likely operate Eurowings' long-haul aircraft – three during winter and a "maximum" seven in summer 2021.
Spohr adds that the group is also considering the placement of eight Munich-based Eurowings A320s under the new AOC.
Lufthansa has previously said it aims to model Ocean on group carrier Swiss's leisure subsidiary Edelweiss, which operates a mix of narrow- and widebodies from its Zurich base. Spohr notes that Eurowings' remit will include operation from the group's hubs alongside bases in secondary cities.
Ocean's establishment has been strongly opposed by unions in Germany. Spohr dismisses suggestions that the new unit's purpose is to influence the restructuring effort at Lufthansa's mainline. These, he says, are "part of the PR around the negotiation" with unions.
In September, Lufthansa started internal recruitment of 300 flight- and cabin crew for Ocean.
Spohr acknowledges that this effort is aimed at employees who previously served as Eurowings crew. But while the previous jobs were full-time roles, the new ones are available on a 70% part-time basis.
The decision to recruit staff on part-time contracts was taken to avoid "sending too many people into unemployment" while Eurowings' long-haul fleet is being reduced, Spohr says.
"To allow as many people as possible to find jobs who now are now losing their jobs, we will offer part-time work," he says. "That's the whole secret behind the story."
He says Lufthansa's three main unions – Vereinigung Cockpit, UFO and Verdi – have "no say in where we allocate our aircraft", adding: "That's the reason for the PR [against Ocean]."
Referring to a multi-year dispute with pilot union Vereinigung Cockpit which was resolved with a long-term labour agreement in 2017, Spohr says Lufthansa has since overcome almost all previous aircraft-allocation limitations.
One rule remained regarding aircraft use in Lufthansa's fleet, Spohr says. But he adds that was based on Lufthansa's pre-Covid fleet size and is now "history" as the group decommissioned aircraft amid the pandemic.
"We can put the aircraft where want to," he says.