Lufthansa expects ITA Airways' long-haul fleet to reach 24 aircraft by 2027 under a plan to develop the Italian carrier's business from Rome Fiumicino.
The German carrier on 26 May agreed a deal to acquire a 41% stake in the Italian flag carrier with options to purchase the remainder from the Italian finance ministry at a later date.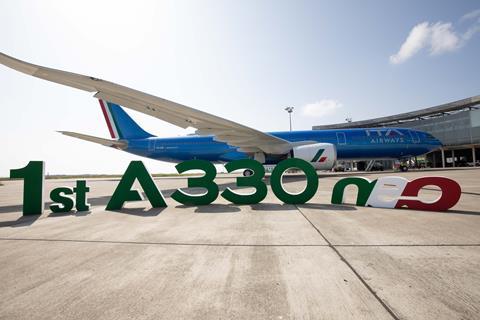 During a subsequent presentation to analysts, the German airline group outlined the business plan to increase ITA's fleet from 66 in May to 94 over the coming five years.
"We will rebalance ITA's short- and long-haul business," said Lufthansa Group chief executive Carsten Spohr during the call. "We'll optimise, and in parts right-size, its short-haul feeder network so that it supports growing a larger profitable long-haul business out of Rome Fiumicino, where we intend to grow our share."
While highlighting the strength of corporate and premium leisure demand for ITA's Milan Linate operation, and the "good potential" to expand the tourist activity there at weekends, Spohr says the focus is on growing a profitable long-haul business from Rome,
"Most of the long-haul business will be to core North and South American destinations. The upcoming integration of ITA into [Lufthansa's] Atlantic++ joint venture with United and Air Canada… will offer greater connectivity and much wider commercial reach. We will also build on ITA's established strength on routes to Asia, Africa and the Middle East," he says.
In part, Lufthansa is aiming to reclaim ground lost during the struggles of ITA's predecessor Alitalia. "The market share of the Lufthansa Group long-range [in Italy] is almost the same as ITA, so combined you are reaching the share a national carrier normally has," says Spohr.
"We see potential in long-haul to bring it up to 24 aircraft in our business plan over time and that will rebalance again the market share of a carrier that has not had natural share of a national carrier for some time."
ITA has eight Airbus A330-200s and six A350s in its long-haul fleet already and has just taken delivery of its first A330neo, which will enter service in June. Cirium fleets data shows it has commitment for 16 more A330neos. It also has additional orders for A220s and A320neos.
"The secured aircraft slots of ITA Airways we believe are an asset of the company," says Spohr, noting ITA will retire 40 aircraft by 2027. It expects more than four-fifths of ITA's planned fleet of 94 aircraft to comprise new-generation aircraft, including all its widebodies.
He adds: "Once we own the company, we can play around with aircraft. We can move aircraft from one airline to another, [as well as] orders. So there is room to optimise incoming aircraft within Lufthansa Group [that] will grow ITA in two ways: to put aircraft there, but also because they are bringing along a nice orderbook."