Lufthansa is to temporarily reactivate five Airbus A340-600s on flights from Munich next summer to provide a first-class product offering from the airport.
The German carrier pulled its 17 examples of the four-engined jet from service when the pandemic hit last year and even as early as April 2020 was indicating it would not restore the entire fleet.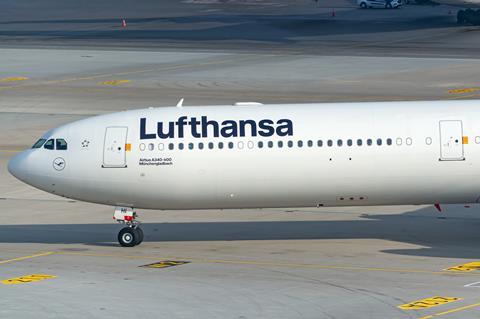 In September of last year it said seven of these would be permanently removed from service and the remaining 10 put in long-term storage, only to be reactived in the even of an "unexpectedly rapid market recovery".
While Lufthansa is in the process of selling a dozen of the A340-600s, it has today outlined pans to reactivate five aircraft to enable it to provide a first-class product offering from Munich in 2022. Lufthansa operates its A340-600s in a four-class configuration, including eight first-class seats.
"The decision to reactivate these aircraft is due to growing premium demand, for business as well as leisure travel," Lufthansa says. "Commencing in summer 2022, the A340-600s will fly from Munich primarily to North American and Asian destinations."
Bringing the aircraft back into service will bridge a gap before the carrier takes delivery of the first of its Airbus A350-900s to feature a first-class cabin, which are due to arrive from late summer 2023.
But the move does not offer a long-term reprieve for the A340s: the airline says the five reactivated jets will be "sold at a later date".