David Neeleman expects US start-up Breeze Airways to launch Airbus A220 flights with around five aircraft when it is approved to begin operations with the type next year.
Breeze, Neeleman's fifth airline launch, began service in late May using Embraer 190 and 195 jets. However the airline has 80 A220-300s on order and in October outlined plans to equip the aircraft with 36 premium seats alongside 90 in economy.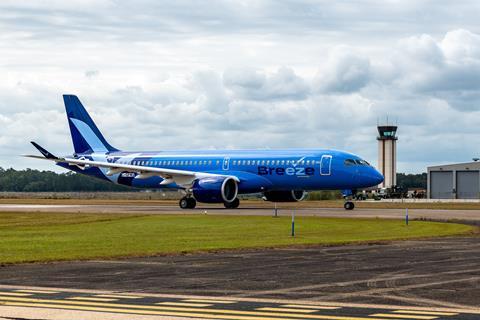 Speaking at the World Aviation Festival in London today, Neeleman said: "People thought 'why would you put 36 first-class seats on an airplane?' but it was a choice. We can go from 145 all coach, we can go 136 and have 12 first-class seats, and then if we give up just 10 more seats we can add 24 more first-class seats. So it just depends on the mission, but the good thing is we can swap those seats out in a matter of days.
"When we did the calculations, we had to charge 40% more for a first-class seat then we are charging for a coach seat. If you are flying [transcontinental] and its $129 or whatever, then you can charge another $40 or $50 and then its just neutral. And if you can charge more than that, then you can make more. In most cases its two or three times more."
Having unveiled its first A220 in October, Neeleman says the certification process is under way and he is hopeful of finishing the necessary proving flights "by the end of the first quarter, beginning of second quarter [of 2022]".
"We will start with about five airplanes. And the routes will be decidedly long-haul," he says. "The thing about the A220 – we love the E-jets – but it burns less gas than a [Embraer] 190 does and you can carry 30 more passengers and you can go for six and a half hours."
Neeleman would not be drawn on discussions with Airbus about adding further range to the A220 with the addition of extra fuel tanks, but flagged the potential of a longer-range version and the possibility of piggy-backing work being undertaken by Airbus for the TwoTwenty corporate jet.
"The good thing is they are already doing the work. Obviously for the [A220]-100 – there is a private version that they are actually committed to putting the tanks in, so the jump from the -100 to the -300 should not be difficult to do. If they weren't doing the -100 it would be much tougher.
"There are just a lot of cities in Brazil if we can get that range up to where we think we can, we can serve 10 or 12 cities in Brazil from Florida, and even other places in Latin America. There are a lot of great things you can do with this airplane."