US regional airline Tailwind plans to expand to new routes next year and to acquire more seaplanes, building on a network that includes recently launched seaplane service between New York City and Boston.
The New York-based airline, which operates three amphibious Cessna Grand Caravan EX, made a splash on 2 August when it launched the Boston flight. The downtown-to-downtown route takes 1.5h less, door to door, than travelling by train or flying from the cities' major airports.
"You will see expansion in March or April [2022] to several new destinations," says Tailwind vice-president of sales and business development Peter Manice. "We have plans to have up to six seaplanes by the end of next year."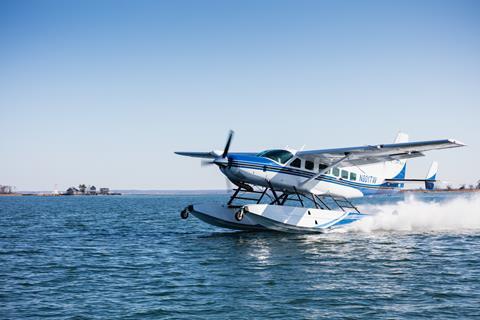 The carrier's business plan calls for it to operate as many as 15 seaplanes within four years. It has an eye on acquiring larger aircraft, such as De Havilland Canada Twin Otter seaplanes.
Tailwind envisions adding flights from New York's East River to places like Baltimore, Hartford, Portland (Maine) and Providence (Rhode Island). It also hopes to add flights from New York to Ronald Reagan Washington National airport, and is considering adding flights in Florida and the Bahamas during winter.
Tailwind's Caravans connect Boston and New York in about 95min. Passengers avoid a much-longer train ride and the hassle of getting to and from airports like Boston Logan International and New York's LaGuardia airport. Tailwind's business model is designed to appeal to business travellers.
The airline flies up to four times daily, six days weekly, on the Boston-New York route. Initial loads have been less than the company hoped – a result of business travel still being down 70-80% due to the pandemic, Manice says.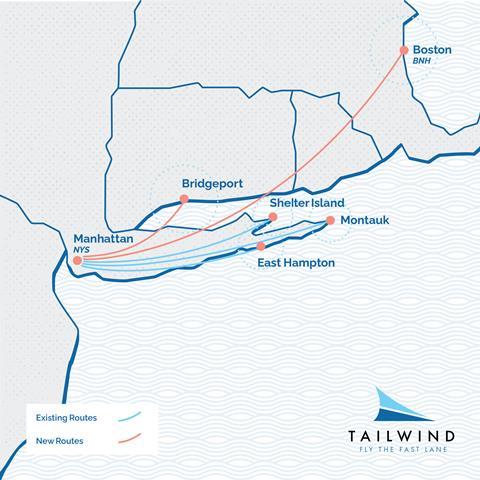 In addition to the Boston flight, now Tailwind flies to several destinations in the Hamptons – at the eastern end of Long Island. Tailwind's New York flights take off from New York's East River, with boarding from a terminal on East 23rd Street.
Tailwind operates its seaplane routes only about eight-and-a-half months yearly, pausing operations from November until mid-March due to the difficult operating conditions caused by winter weather and short days. The carrier flies its seaplanes during the day only.
Tailwind opened its doors in 2014 as a charter operator.
Story updated to clarify that Tailwind operates the New York-Boston route six days weekly.