Nigeria's Air Peace has ordered five Embraer 175 E-jets, the Brazilian airframer said on 14 September.
The order of the 88-seat aircraft "marks a significant step forward and is in alignment with Air Peace's ongoing strategy of modernising its fleet", Embraer says. Deliveries of the jets will begin in 2024.
Air Peace already operates five E195-E2 aircraft, with orders for eight more, and the smaller jet promises to improve the airline's ability to match capacity to demand, Embraer says.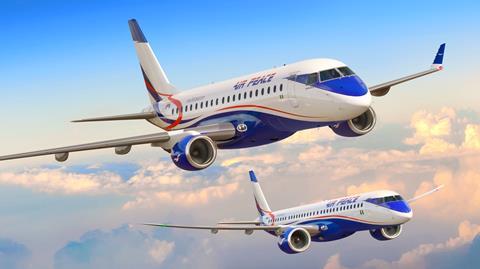 "This is another important step in helping to realise our ambition to connect the whole of Nigeria with the entire African continent, while also feeding passengers into long-haul flights from our Lagos hub," says Air Peace chief executive Allen Onyema. "The acquisition enables us to continue delivering on our no-city-left-behind initiative – connectivity is what our passengers and Africa demand. The deal also paves the way to establish local maintenance capabilities in Nigeria, with direct support from Embraer."
In addition to the order from Air Peace, Embraer says that another Nigerian carrier, Overland Airways, received the first of three E175 E-jets last week.
"The delivery of Overland's first new E175 marks the beginning of an exciting chapter for the airline and Embraer," says Stephan Hannemann, head of the Africa and Middle East Region for Embraer's commercial aviation division. "Nigeria represents one of the fastest growing aviation markets in the world. Overland and Embraer are committed to the support of its continued success with a product line perfectly suited to build connectivity across West Africa."
Overland placed the order during the 2021 Dubai air show. It operates four ATR and one Beech 1900D turboprop.