Restructured low-cost carrier Norwegian is looking to bring in new aircraft for next summer as it aims to rebuild its fleet to between 80 and 100 aircraft by 2024.
Norwegian massively cut back its fleet as part of major restructuring, which included shedding its Boeing 737 Max aircraft and orders. The carrier has steadily been increasing its fleet size since emerging from what it termed "hibernation mode" during the pandemic.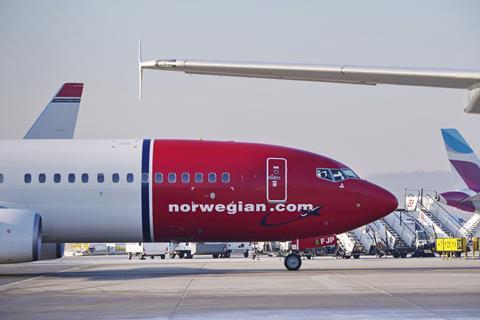 The airline had a fleet of 51 aircraft during the fourth quarter, of which it was operating between 40 and 45 because of the Omicron impact on demand.
It also took in eight aircraft during the fourth quarter in preparation for the coming summer season. They are part of 19 to 20 aircraft Norwegian is leasing for the summer, which alongside 17 737-800s also includes a return to Max operations with a pair of 737-8s.
"On all these aircraft we have power-by-the-hour [agreements] next winter, so we have the flexibility we need for the coming winter," explained Norwegian chief executive Geir Karlsen during a full-year results briefing today. "That is very important and takes care of the issues when it comes to the fact we would like to be more flexible to take out capacity [in the winter] and cost associated with it."
He esimates power-by-the-hour agreements on its existing fleet contributed to lease cost savings of between $40-45 million in 2021.
"We are estimating that next summer [2023] we will have a fleet between 80 and 85 aircraft. All the growth will be with new technology. So they will be brand-new aircraft and we are already in the market trying to source these aircraft," he adds.
"We feel the market for the aircraft is tightening, but we still feel there is a window in the next month or two where you can secure capacity," he says.
While the carrier is operating an all-Boeing fleet comprising predominantly 737-800s, it has previously flagged it has options to switch its incoming 737-800s for either 737 Max or Airbus A320neo aircraft.
It forms part of efforts to rebuild the carrier's fleet – which stood at 156 at end of December 2019 – following its restructuring.
"We will have 70 aircraft in the air this summer, we have set a target of 80-85 for next summer and we need to come up to a fleet of between 80 to 95-100 as soon as possible. Most likely that will be in 2024," says Karlsen.
"Looking at the history of the network Norwegian has been flying, that is a [fleet size] level we are comfortable with, meaning we will be profitable. And that is a good level… when it comes to getting the cost down and getting the scale effects into the business."