The number of aircraft parked for more than seven days at Europe's airports has dropped to the lowest level since the beginning of the Covid-19 pandemic, in what Eurocontrol describes as "a good sign for the summer ahead".
More than 800 aircraft have been brought back into service since the start of May, the European air traffic manager says in its latest data snapshot.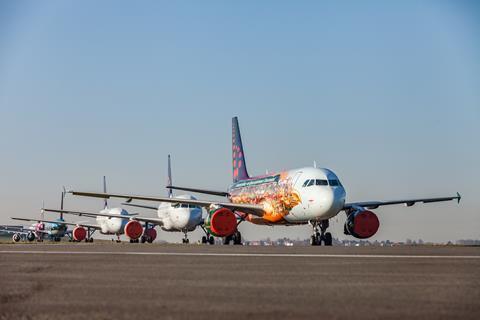 In mid-June, this left just under 3,400 aircraft inactive for more than seven days – the lowest level since numbers soared in mid-March 2020 and reached a crisis peak of 7,168 in April.
The previous pandemic low was in late August 2020, when just under 3,600 aircraft were parked at Europe's airports, Eurocontrol data shows. As travel restrictions were reimposed, numbers trended upwards again, reaching nearly 5,000 in early 2021.
The aviation body notes that pre-pandemic, it was common for around 2,000 aircraft to be parked at the region's airports each week, but that levels would fluctuate due to seasonality.
Eurocontrol also notes that business aviation and private aircraft do not necessarily fly every week, and that aircraft under maintenance or repair, and recently retired aircraft, are included in the inactive total.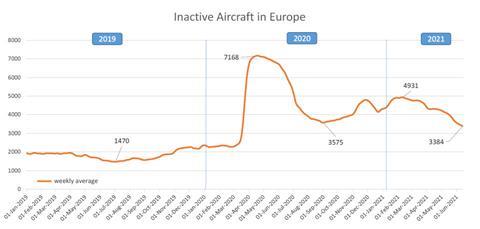 Eurocontrol's data considers any aircraft with a flown flight plan since the beginning of 2018 that landed at an airport in the organisation's area of operations. If an aircraft is then parked for more than seven days at a given European airport, it is considered inactive from the moment it landed until its next flight. Helicopters and some specific operators, such as Airbus (test flights, for example) and air forces, are excluded from the analysis.
Pre-pandemic, around 85% of the flights tracked by Eurocontrol were commercial airline passenger operations, with the rest accounted for by all-cargo, business aviation and non-scheduled services.