Improved propulsion technology and a lower cruising speed will ensure the Boom Supersonic Overture significantly outperforms the BAC-Aerospatiale Concorde, according to United Airlines chief executive Scott Kirby.
United signed a "commercial agreement" to buy 15 Overtures and potentially 35 more in early June, but many observers – including IATA director general Willie Walsh – have since questioned the viability of operating supersonic jets, citing the Concorde's limited commercial success.
Responding to those concerns during a FlightPlan event on 23 July, Kirby said: "The Concorde was designed 60 or so years ago, so I don't know if it's leap or a crawl forward, but [Overture is] a huge improvement.
"The fuel burn is a fraction of what the Concorde was."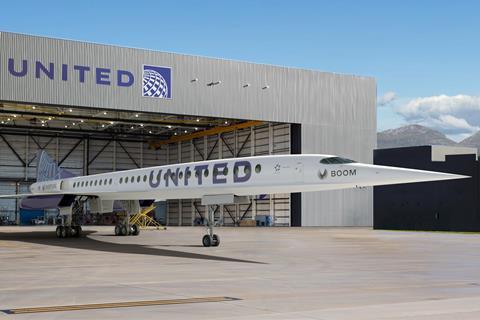 He explains that while the Overture will run on two engines with no afterburner, "Concorde had four engines and ran on afterburner… which means dumping fuel straight into the exhaust as it comes out of the engine, so it burned an awful lot of fuel and was therefore very, very expensive".
Also in Overture's favour, "it flies at Mach 1.6 or 1.7, compared with Mach 2 [for Concorde]".
That speed difference again contributes to much lower fuel burn, "which makes it more economical and better for the environment", Kirby states.
"That's really the key to what makes this work compared to the Concorde, because it doesn't burn fuel the way Concorde burned fuel," he says.
Kirby also states that "we know there'll be demand for it", citing the attractiveness of "getting between London and New York in under three-and-a-half hours".
But while he notes that the carrier "insisted" the Overture's engines be designed to run on 100% sustainable aviation fuel (SAF), United has nevertheless attracted some criticism over its plans.
Concerns over ensuring sufficient availability of SAF – which is central to most roadmaps for the airline industry to reduce its emissions in the coming decades – existed even before the return of supersonic flight was considered.
And some studies suggest that supersonic aircraft could burn several times more fuel per passenger than subsonic jets.