Airlines in the Pacific region will increasingly value the flexibility of aircraft that can perform both short-haul and long-haul missions, with Airbus forecasting the region to require 920 aircraft over the next two decades.
Stephen Forshaw, Airbus's chief representative for Australia, New Zealand, and the Pacific notes that Qantas is acquiring the Airbus A220 mainly as a replacement for the Boeing 717, but that the A220 is not a true replacement, in that it offers far more capability.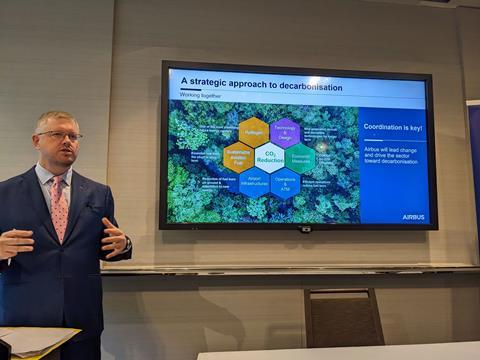 "These aircraft have far greater endurance than the 717, so it will allow them to operate over routes where there might be less demand," says Forshaw.
"They may not need high frequency, but they need the occasional operation."
He notes that the A220 is well-suited to short thick routes, such as Melbourne-Canberra, but can also be deployed as needed on longer, thinner routes.
According to Airbus's latest orders and deliveries data, Qantas has orders for 20 A220-300s. In its recent interim results announcement, the carrier said it would exercise options for nine additional examples, ultimately bringing its A220 fleet to 29 examples.
Forshaw adds that aircraft such as the developmental A321XLR will also open up new long-range opportunities for carriers in the vast Pacific region.
Forshaw made the remarks during a presentation in Melbourne about Airbus's forecast for the Pacific region. Overall, it expects the market to require 920 new aircraft in the next two decades, comprising 750 narrowbodies and 170 widebodies.
He adds that 45% of Pacific orders will be for replacement, 55% for growth.
"Particularly in the Pacific, we see a lot of demand coming for the replacement of older generation, far less fuel efficient aircraft," says Forshaw.
"We're talking about aircraft operations not just one generation, but potentially two generations behind where the next generation of aircraft are going to be. The fuel benefit and range benefits that come with new generation aircraft will be very, very appealing to Pacific customers."
Forshaw also highlights the importance that carriers in the Pacific region place on sustainability, and notes that Airbus has a number of sustainability initiatives in the region.
"All our focus today ultimately converges on one objective and that is the decarbonisation of our industry," says Forshaw.
"We have a duty to ensure that generations to come will be able to experience the joy of travel in the way we have done, to discover the world, to connect with others and experience new cultures. All this while protecting the environment."