Royal Jordanian has ordered six Boeing 787-9s from the manufacturer and is set to revamp its existing 787-8s.
The Gulf carrier was a Middle East launch customer for the Dreamliner and has announced a deal for four newly-ordered 787-9s while reconfirming orders for two more during the Dubai air show.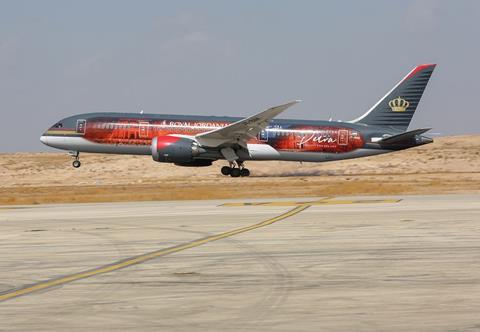 Speaking during a press conference in Dubai, Royal Jordanian chief executive Samer Majali explained the two-aircraft reconfirmation.
"Because of issues in the region, Arab Spring and so on, we curtailed our original order and reduced it," he says.
"So now we are bringing back those aeroplanes we reduced and adding to them. So two of them are basically an old order that was cancelled and reactivated, and four additional on top of that."
The airline is also leasing three more 787-9s. "The leased ones are coming first, two in 2025 and one in 2026. Then the Boeing ones will come, one in 2027, one in 2028 and so on. Almost one or two a year."
"We still continue to use the 787-8 and we are very pleased with this aeroplane," he adds. "The -9 is obviously bigger and more efficient, but the -8 is also very good and, in this climate of lack of aeroplanes, we are also going to refurbish our 787-8s in co-operation with Boeing to be able to extend their life as long as possible,
"We are working with Boeing Services and our main [buyer-furnished equipment] supplier to have it ready, very close to the time that we are receiving our new 787-9s."
Majali states: "We want to make sure these aeroplanes are compatible with that [new aircraft] standard. Our current 787s are eight or nine years old, so still fairly young and worth investing in. So the idea is to bring them up to the -9 standard."