Ryanair is beginning to doubt that its first Boeing 737 Max jets will arrive before this summer's peak travel months.
As the operator announced an €815 million ($990 million) loss for its 2021 fiscal year today, group chief executive Michael O'Leary said that even though Boeing was now suggesting its first Max aircraft will be delivered in late May, "I'm not sure we necessarily believe that".
Instead, he says, "there's a real risk now that we will not see any of these aircraft in advance of summer 2021".
Ryanair had already downgraded its Max delivery outlook in late March, when it said it expected to take 16 aircraft in time for Europe's busiest travel months, down from the maximum of 24 that it had previously hoped to receive. By early April, the FAA and EASA had certificated the high-density 737 Max 8-200 variant that Ryanair is the launch customer for, appearing to give the green light for deliveries to begin.
Since then, O'Leary claims that "the management in Seattle have constantly missed promised deadlines for the first delivery", leaving the airline "quite upset".
He expects the issues to be resolved in the "medium term", however, "and we're confident that we'll take at least 60 of those aircraft in advance of summer 2022".
In response to O'Leary's comments, Boeing says that it will "continue to work with Ryanair to support their fleet requirements".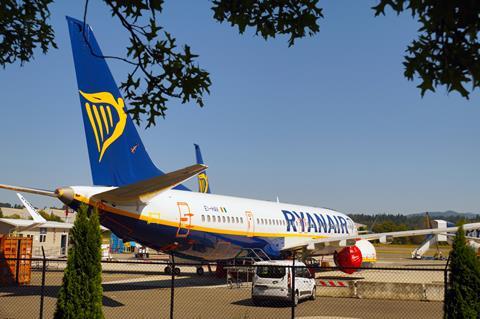 When the first Max jets eventually arrive, Ryanair's chief financial officer Neil Sorahan says that the initial examples will be put into "key maintenance bases for the likes of Buzz, Malta Air and Ryanair across Europe".
Thereafter, "the airlines are competing with each other" for the new aircraft, which Ryanair describes as "game-changers" for its cost base, thanks to the variant having four more seats and lower fuel burn than older-generation 737 aircraft.
The group's carriers "are all very keen to get their hands on these new, efficient aircraft", Sorahan says.
In late March, O'Leary noted that even though Ryanair's existing fleet size of around 450 jets was more than sufficient for Covid-hit traffic levels in 2021, the operator was still "anxious to get these aircraft delivered so that we can start training our pilots and our cabin crew can get familiar with them, and our customers can enjoy flying in them".
Ryanair has orders in place for 210 737-8200 Max jets, having firmed up 75 more units in early December 2020.