Ryanair expects to have around 80 Boeing 737 Max 8-200s in its fleet for summer 2022, enabling the carrier to return to growth following the heavy drop in traffic resulting from the global pandemic.
The European low-cost carrier today placed another eye-catching Boeing order, becoming the first airline to sign up for more of the type since the FAA authorised the Max to return to service after its global grounding in March 2019.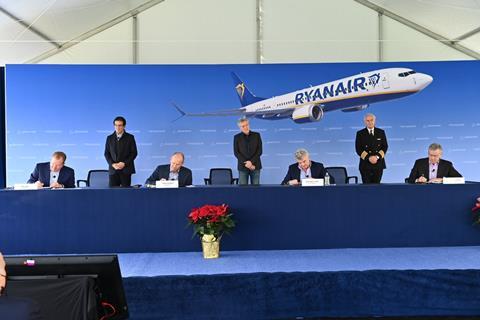 Ryanair is adding a further 75 aircraft to its firm orders for the 737 Max 8-200 – the higher-density configuration of the type the airline is taking. It held 75 options prior to today's announcement.
The carrier, which signed for the first 100 of its Max aircraft in 2014, was poised to take delivery of its first of the type just as the global grounding happened in the spring of 2019.
Speaking at a joint press briefing to announce the follow-on order today, Ryanair group chief executive Michael O'Leary said: "We have agreed some modest compensation with Boeing for the losses and costs we have suffered over the last 18 months as a result of the delivery delays.
"We are going to commit to taking 210 firm aircraft. We are going to compress that order, so we are going to take them faster over the next five years.
"We are convinced [Boeing] will be able to deliver the first of these aircraft early in the spring," says O'Leary. "We are hoping to get between 25 and 30 of the aircraft in time for the the summer 2021 flying season in Europe, when we believe the combination of vaccines and these new aircraft will begin to enable us to return to growth in Europe and that will lead us into a stage of five years of very strong growth across Europe."
Boeing says 27 of Ryanair's aircraft have been built and another 13 are in progress.
While the type will comprise only around 6% of Ryanair's fleet next summer, O'Leary says it will account for around a third of its projected 600-strong fleet five years from now.
"We have got to look forward with confidence. Vaccines are coming in the first quarter of next year. There is going to be a very strong recovery here. We need more aircraft in Ryanair if we are going to lead that recovery in Europe," O'Leary says.
He says Ryanair – which carried 149 million passengers last year – is likely to fly around 35 million in this pandemic-hit year. O'Leary adds that this could grow to anywhere from 95 million to 130 million next year depending on the roll-out of the vaccine.
"But as we move out into the summer of 2022, we'll be adding 80 of these gamechanger aircraft. We will be growing strongly. We will be returning to growth across most of the European states in which we operate and we see our traffic rising from 150 million passengers to 200 million over that four-year period."
WE DON'T CARE WHAT THEY CALL IT
During the press conference, O'Leary repeatedly stressed his confidence in the Max – both its safety and likely reaction of its passengers to flying on the type again after the two accidents which prompted its grounding.
"This is the most scrutinised, most audited aircraft in history. It's also going to be one of the safest aircraft that's ever been delivered," he says, noting it had already been flying for 22 months before the grounding and highlighting the subsequent focus there has been on it during its recertification.
"I cannot tell you how confident we are in the safety of this aircraft. Will our customers like this aircraft? They are going to love this aircraft.
"We are not going to try and downplay it. We are very proud of this aircraft. I don't care whether they call it – the Boeing Max, the Boeing 737 8-200, we call it the gamechanger. What I know our customers are going to love flying this plane."
He says with only 25 to 30 of the type in service this summer it won't be possible to let its customers know in advance if they will be flying on the Max.
"But certainly for the first three, four, six months, any customer that is getting on a Max aircraft that doesn't want to get on a Max aircraft we'll say 'that's fine, no problem, you can go on the next NG aircraft'. We will let people offload if you want, but I don't think there will be very many – in fact there won't be any, because this is a great aircraft. We are very confident in it. And we are sure our customers will enjoy flying on it."
He also credits the Boeing management team, led by chief executive Dave Calhoun, for its handling of the Max recertification this year.
"You got a sense there is a new sheriff in town and a determination to get the regulatory issues out of the way. That has been critical," he says.
And O'Learly hints further Max orders will follow. "This is not going to be the first of these announcements .We are already in dialogue with Dave [Calhoun] and Stan [Deal] on the Max 10.
"We are not quite there yet, there are more discussions to take place."