Ryanair expects to be operating at least 60 Boeing 737 Max aircraft in time for next summer and has reiterated its interest in ordering the Max 10 variant "if the price is right".
The European low-cost giant in June took delivery of its first three 737 Max-200s – a higher-density version of the Max 8 configured with 197 seats it calls the "Gamechanger". The aircraft are the first of a dozen that will join the fleet this summer.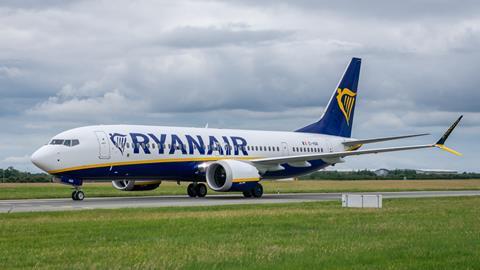 Ryanair expects to have over 60 Max aircraft in its fleet by the end of its current financial year, which runs to March 2022. It is part of a commitment, enlarged with a follow-on deal late last year, for 210 of the type.
A first 737 Max was initially due to be delivered to Ryanair for the summer of 2019, but the grounding of the Max programme and then the Covid crisis pushed back this milestone.
The carrier notes that restarting aircraft deliveries means its capital expenditure (CapEx) requirements will start to increase, but chief executive Michael O'Leary believes an improved demand outlook as travel restrictions ease will help fund this.
"As we have in the past I think it will be a mixture of internal earning generated funds and cheap external debt," O'Leary said, when asked during a first-quarter results briefing today how the airline will fund deliveries.
"We've a very strong balance sheet, we've over €4 billion ($4.7 billion) in cash. I don't expect any shareholder distributions for the next year or two while we address these CapEx challenges, but I expect us to be very strongly cash generative in the next two years.
"That will fund a huge proportion of our aircraft CapEx, and we will then be opportunistic. We will use the debt markets where its sensible to do so, we may also engage in some sale and leaseback transactions as well," he says.
Ryanair chief financial officer Neil Sorahan adds:"Over the next four years we are going to take delivery of over 210 Gamechanger aircraft and that allows us to sell out some of the older aircraft from the fleet, so we can keep the average age of the fleet young.
"We've got 29 A320s on lease in Lauda and we would expect from the winter of 2022 we would start handing back some of them. By the time we get to FY2026 we'll have about 600 aircraft in the fleet."
The Max is already deployed at Ryanair's mainline operation and Malta Air – which flies a fleet of around 120 aircraft for Ryanair – while leisure unit Buzz will take its first example this autumn.
O'Leary says the type has performed better than expected since entering the fleet. "We have slightly lower than normal load factors, but the fuel performance in the initial month is better than the 16% lower per seat. And the response from our pilot and cabin crew, and most especially from our passengers, has been an overwhelming and universal endorsement of the aircraft."
Further ahead, O'Leary says a deal remains on the radar for the 737 Max 10, the maiden flight of which Boeing undertook in June.
"To be fair to Boeing, they are exercised in delivering a huge backlog of Max aircraft. We've been focused in recent months on recovering the operation, rebuilding our bookings," he says.
"I think its something we will revisit with Boeing towards the end of the year. We think the Max 10 is a great aircraft, but we are very disciplined at Ryanair and will only place orders when we think the price is right. However, certainly we have reached agreement with Boeing as part of the Gamechanger order that we will be at the front of the queue, when they get round to discussing Max 10 pricing and orders."