Ryanair expects to receive its first Boeing 737-8200 Max jets in April and to operate 16 of the type during the peak summer season, based on certification of the high-density variant being secured in the coming days.
"We're hoping that… the 8200 will be certified by the FAA some time later this week and then by EASA later this week or early next week," Ryanair's group chief executive Michael O'Leary said on 24 March, referring to the variant being procured by the airline, which features increased accommodation of 197 seats and an extra pair of exit doors.
If certification is secured in the coming days, "we would expect to take probably our first Max delivery… in April", O'Leary says, with Ryanair as launch customer for the variant.
He notes that the Dublin-based carrier "had hoped to take our first Max delivery in late March" this year, having originally expected to receive its first of the type in April 2019 before the pandemic devastated the global air travel market.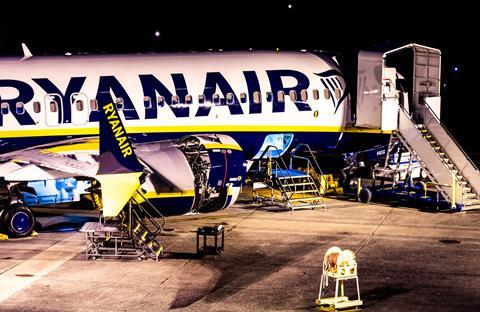 In total, O'Leary expects the carrier to receive eight 737-8200s in April and the same number in May, with no further deliveries planned during the summer peak season.
That hesitancy to take any more of the type – Ryanair had previously talked of receiving 24 by the summer season – comes as the carrier expects to operate "80% of our pre-Covid peak" in the June-September period, O'Leary states, citing the group's existing fleet of more than 450 aircraft.
As a result, "we don't need these aircraft, but we are anxious to get these aircraft delivered so that we can start training our pilots and our cabin crew can get familiar with them, and our customers can enjoy flying in them".
On the latter point, the Ryanair chief does not expect customers to have "any concerns" about flying in the Max, which only returned to commercial operations in December 2020 following a global grounding that began in March 2019.
"In fact, we think they will be delighted when they get on the new aircraft and see it," O'Leary states.
If there are passengers who are hesitant, he says, "they can be offloaded without a fee".
Ryanair says it has orders in place for 210 "game-changing" 737-8200 Max jets, having firmed up 75 more units in early December 2020.