Ryanair chief executive Michael O'Leary thinks Boeing is well on its way to recovering from supply chain troubles and expresses confidence the manufacturer will deliver newly ordered 737 Max 10s on time.
"We have a high degree of confidence," O'Leary said on 9 May of Boeing's likelihood of meeting delivery commitments. "Boeing deserves great credit."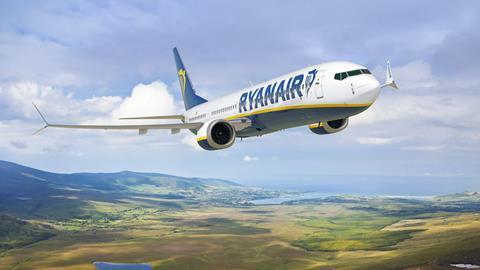 He spoke on the day Irish carrier Ryanair revealed having ordered 150 737 Max 10s from the US manufacturer, with deliveries scheduled to start in 2027. Ryanair also secured options to order another 150 of the type, which it will equip with 228 seats.
The deal throws fresh momentum behind the 737 Max programme and comes as Boeing works to address a 737 quality problem that cropped up last month. Specifically, Boeing halted delivery of some 737 Max 8s and Max 8-200s due to defective aft fuselage fittings.
The problem occurred during assembly work performed by Wichita-based Spirit AeroSystems, which supplies Boeing with major 737 components, including fuselages. Boeing's 737 Max 9 is not affected.
Ryanair holds orders for 107 737 Max 8-200s, according to Cirium data.
O'Leary says the latest delivery hiccup has forced his airline to trim some planned summer capacity but insists it will not "materially affect" Ryanair's operation.
Previously, Ryanair had expected to receive 51 737 Max from Boeing by the end of April, but it now anticipates taking 48-50 jets by end-July, O'Leary says.
Boeing has "done a phenomenal job catching up on these deliveries", he adds.
Besides the fresh delivery issue, Boeing has been working to hike 737 production as it and suppliers struggle with shortages of raw materials, parts and labour.
Boeing chief executive David Calhoun has cited insufficient numbers of CFM International Leap-1B turbofans as one factor holding up 737 output.
O'Leary thinks CFM is also making strides, saying on 9 May, "The engine manufactures have faced herculean challenges over the last year or two, and they are delivering phenomenal engines".
Boeing's ability to deliver Ryanair's 737 Max 10s on time also depends on how fast it can get the Max 10 – the largest variant of the Max family – certificated.
The programme is already delayed, with Boeing having pushed back the certification timeline in recent years amid heightened regulatory oversight by the Federal Aviation Administration.
Boeing now aims to have the Max 10 certificated in 2024.
"We have no fear [about] the Max 10 getting regulatory certification," O'Leary said on 9 May, noting Ryanair is not scheduled to be the first airline to receive a Max 10. "It will be [certificated] well ahead of our first deliveries in 2027."