Revamped South African Airways expects to embark on a wider fleet expansion once its strategic investor is on board, as it prepares to resume international widebody flights by year-end.
SAA resumed flights in September 2021 after an 18-month grounding amid its business restructuring and the Covid crisis blocks on travel. Its initial route network has focused on regional services within Africa and it had initially been hoping to resume intercontinental flights this summer.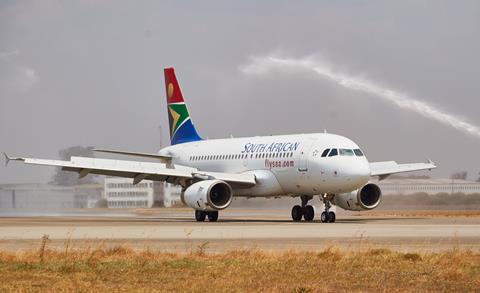 "The plan was to start in July, but because of the aircraft availability issues we had to push that a few months out," SAA chief executive John Lamola tells FlightGlobal during an interview at the IATA AGM in Istanbul, noting the aim is to have two intercontinental routes by the end of the calendar year. SAA plans to start by relaunching flights to Perth and Sao Paulo – both destinations it served prior to the pandemic.
SAA in May confirmed it had been given the green light by the South African public enterprises ministry, the airline's owner, to lease six more Airbus aircraft. That includes an A330 widebody, which it has already secured from a lessor.
"It's been difficult for us to acquire aircraft during this time – of course in the northern hemisphere it is high season and all our lessors and aircraft providers are in the northern hemisphere," says Lamola. "We are now in the market for six aircraft on dry-lease… and we are battling to get them. But fortunately during this time [at the IATA AGM] we have had discussions with our alliance partners who are going to help us with the aircraft on dry-lease."
The airline has near-term plans to more than double its fleet to 26, including four widebodies, and Lamola hints it is looking at restoring its London Heathrow route once it has more long-haul capacity. "It is a most strategic and profitable route which we will start as soon as we have the extra aircraft, depending on the market," he says.
"Then we have a fleet plan, which will be rolling from next year, which includes ordering some aircraft from OEMs and so forth," he adds. "The aim is to have South African Airways scaled from 28 aircraft to about 50 aircraft in the coming two to three years," explains Lamola.
That process will be supported by finalisation of a deal for strategic investor the Takatso consortium to acquire a 51% stake in SAA. The South African government first announced a deal with Takatso in the summer 2021, though the country's competition regulators have only recently indicated they are set to clear the deal.
"It took a long time approving the sale of shares, and it has been difficult," says Lamola. But he adds: "We are very excited that by early next year we will have a strategic equity partner who is going to bring in a huge capital injection into the business and SAA will then grow and scale out into being a very sizeable airline."