South African Airways has finalised plans to add more capacity for the southern hemisphere summer, under which it is taking more Airbus A320s to increase its fleet to 10 aircraft.
A slimmed-down SAA resumed flights just over a year ago, after 18 months on the ground during the pandemic and a formal restructuring process.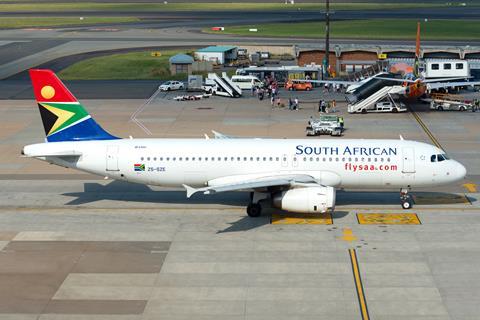 In late September it took delivery of its third A320. Two more of the type will follow in October and November, to take its A320 fleet to five. They will account for half its overall fleet, alongside three A319s, one A330 and an A340 – the latter of which is used as a support aircraft during maintenance or for flights requiring more capacity.
The move forms part of wider fleet development plans, with SAA chief commercial officer Tebogo Tsimane stating: "SAA is replacing its A340-300 with a similar capacity aircraft and will exit the A319 fleet in 2023.
"As we increase fleet size to match the needs of the growing network schedule, we are encouraged that our strategy to cautiously re-enter markets abandoned due to the Covid pandemic has served us very well during the past 12 months, and we will continue to follow that cautious risk-adjusted trajectory."
SAA management has been working on a strategy to ramp-up operations, while it continues to await completion of a capital restructuring from its strategic equity partner the Takatso consortium.