Singapore Airlines does not expect its growth plans to be greatly affected by delays with the Boeing 777-9 programme, while its 737-800s will serve until 2024-26.
The carrier has enough flexibility in its fleet plan to weather delays in the 777-9 programme, says SIA chief executive Goh Choon Phong.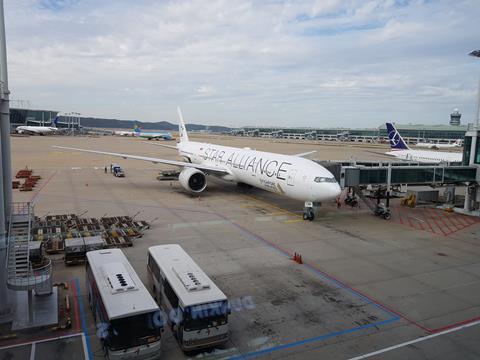 "The way that we have organised our fleet plan is such that we do have some flexibility in terms of making up for any potential loss in capacity," he says.
This includes extending the use of existing widebodies, and potentially extending the leases for some aircraft.
"At the moment, I don't think that our growth plan will be severely hampered," adds Goh.
Goh made the remarks during a briefing for the carrier's full-year financial results to 31 March. In late April, Boeing announced that the first delivery of the 777-9 will be pushed back two years to 2025. Cirium fleets data indicates that SIA has orders for 31 777-9s.
The 777-9 delay is already having an impact on the carrier's 777-300ERs. According to chief financial officer Tan Kai Ping, the airline has various options with this fleet owing to certain aircraft order terms.
Where previously it had intended to trade in three -300ERs with higher engine life, it has decided to swap out the GE Aviation GE99-115BL engines on these jets for use on -300ERs that will remain in the fleet. This means the aircraft will be returned with lower life engines, resulting in an additional impairment.
"The reason we want to do that is because we basically want to use the engines to power the 777-300ER fleet for a longer period of time," he says.
According to SIA's results statement the carrier has 23 777-300ERs.
The 777-9 delay will not, however, have an impact on SIA's 12 Airbus A380s, which Tan says will serve until the end of the decade. He adds that a fresh order would be required to replace these aircraft.
Overall, the 777 decision contributed to SIA's S$51 million ($36.7 million) of aircraft impairments during the financial year. This number also includes impairments on a pair of 737-800s that were deemed surplus to requirements.
Tan adds that the carrier's remaining seven 737-800s will see their leases expiring between September 2024 and January 2026. The aircraft are a legacy of SIA's former SilkAir brand, which was folded into SIA.
SIA is quickly ramping up its 737 Max 8 fleet. From eight examples as of 31 March, it will have 16 by 31 March 2023.
In regard to the SIA Group's overall fleet, SIA had 130 aircraft and Scoot 53 of 31 March. In the 2022/23 financial year SIA's fleet will grow to 144 and Scoot's to 55.
SIA plans to add 14 aircraft: three A350-900s, three 787-10s, as well as the eight 737 Max 8s.
As for Scoot, it will add a single A320neo, two A321neos, and retire a single A320.