SkyWest has asked the FAA to extend a rule that allows carriers to temporarily reconfigure passenger aircraft to cargo operations, in light of continued depressed demand due to the coronavirus pandemic.
The exemption, issued in July 2020 and initially valid for one year, gave US passenger carriers permission to carry freight on the main deck of aircraft, including on seats, when no passengers are being transported.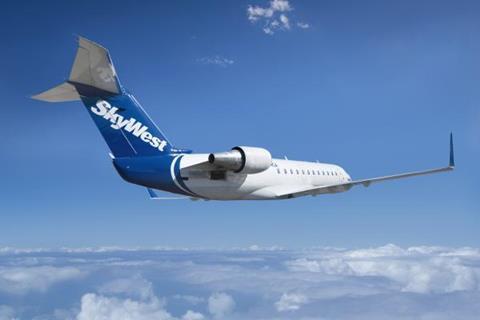 SkyWest's petition, dated 2 February, asks the body to extend this exemption by another year, until July 2022.
"As the second wave of the pandemic is now upon us, it is increasingly clear the path that SkyWest Airlines must take with regards to our business operations, as forecasts for passenger air travel (based on the economic downturn) has since worsened and immediate action must be taken," the St. George, Utah-based carrier says in its regulatory filing.
"This has prompted us to offer some of our passenger-carrying aircraft for carriage of cargo on the main deck to mitigate this downturn."
SkyWest says it is looking to carry the freight on its MHIRJ CRJ900s, of which the airline operates 43, according to Cirium fleets data.
The airline says it is asking for the additional year to make the investment costs pay off.
"SkyWest would be well positioned to support the increased need for cargo operations without the limiting and significant up-front investment costs that are unfeasible for permanent conversion of CRJ900 Series aircraft under the economic strains caused by Covid-19," the carrier says.
"This timeframe would also permit SkyWest Airlines re-evaluate its business strategy with regards to its entire… fleet as a whole," it adds.
SkyWest operates flights for several US mainline carriers including American Airlines, Delta Air Lines, United Airlines and Alaska Airlines.
The carrier reports fourth quarter 2020 earnings results on 4 February.