US regional carrier SkyWest Airlines will acquire 19 new Embraer 175s to fly under contract for United Airlines.
The deal was disclosed during the St George, Utah-based airline's 26 October third-quarter earnings call. SkyWest deposited $36 million on the aircraft order during the third quarter.
"We now expect to take delivery of 23 new E175s starting next quarter through 2026," chief financial officer Robert Simmons says.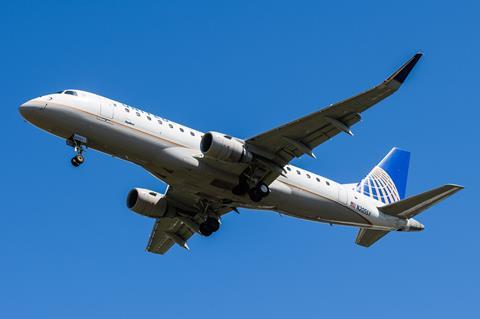 Within the next three years, the carrier also expects to take deliveries of three new E175s for Delta Air Lines and one to operate on behalf of Alaska Airlines.
Through its new United deal, SkyWest is anticipating four E175 deliveries in 2024, seven in 2025 and eight in 2026.
"These new E175s will replace 19 [Bombardier] CRJ700s" which the carrier currently flies for United, says chief commercial officer Wade Steel. "This order will solidify SkyWest as the largest Embraer operator in the world."
SkyWest plans to operate a fleet of 258 E175s by the end of 2026.
As of 30 September, SkyWest had 493 total aircraft in service or under contract, including 235 E175s. The rest are CRJ-series regional jets.
During the 26 October earnings call, the carrier reported earning $23.5 million during the third quarter, down from $48.3 million last year.