Southwest Airlines is now expecting 20 fewer new Boeing 737 deliveries in 2023 than previously estimated.
The major US carrier has reduced this year's anticipated Max 8 aircraft deliveries to 70 from 90 as a result of Boeing's ongoing manufacturing and supply-chain issues, Southwest disclosed during its first quarter earnings call on 27 April.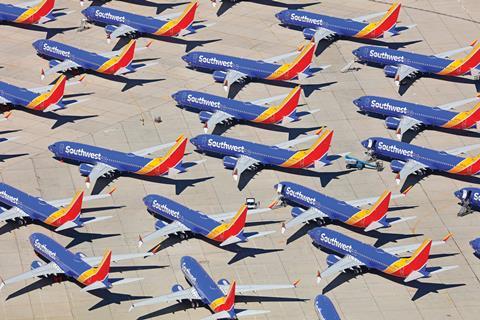 "Looking at the whole year, based on the recent production issues at Boeing, we feel it is prudent to have a more conservative planning assumption and are now planning on 70 Max 8 aircraft deliveries in 2023, compared with our previous assumption of approximately 90 Max 8 deliveries," says chief financial officer Tammy Romo.
"We intend to solidify our order book with Boeing soon," she adds.
In March, the airline had reduced its expected 2023 aircraft deliveries to 90 from 100.
Chief executive Bob Jordan says that Southwest still has not received all of the 46 aircraft that were due to be delivered in 2022, and that the backlog of deliveries has caused the carrier to "moderate our hiring plans". But he struck an optimistic note regarding the upcoming summer travel season in the northern hemisphere.
"We have a surplus of underutilised aircraft in our fleet due to pilot hiring constraints," Jordan says. "Therefore, the reduction in our deliveries should not impact our summer flight schedule. We continue to expect our second quarter capacity to be up 14% year-over-year."
US carriers have been cutting fleet-growth plans in recent months due to delivery delays from Airbus and Boeing, with airframers pointing to engine shortages as the largest snag in the global supply chain.
Boeing's deliveries have also been held up by repeated delays in certification of its 737 Max 7 and 10, and quality problems with its 787 programme.
An exclusive operator of the 737, Southwest has firm orders for 189 Max 7s and 254 Max 8s, and has options for a further 121 aircraft – for a total of 564 Boeing aircraft orders due to be delivered through 2031.